Exactly 3 years ago, I received our first Stripe notification about our first paying customer 🎉

3 years later, we just crossed the $6m ARR mark without any external funding.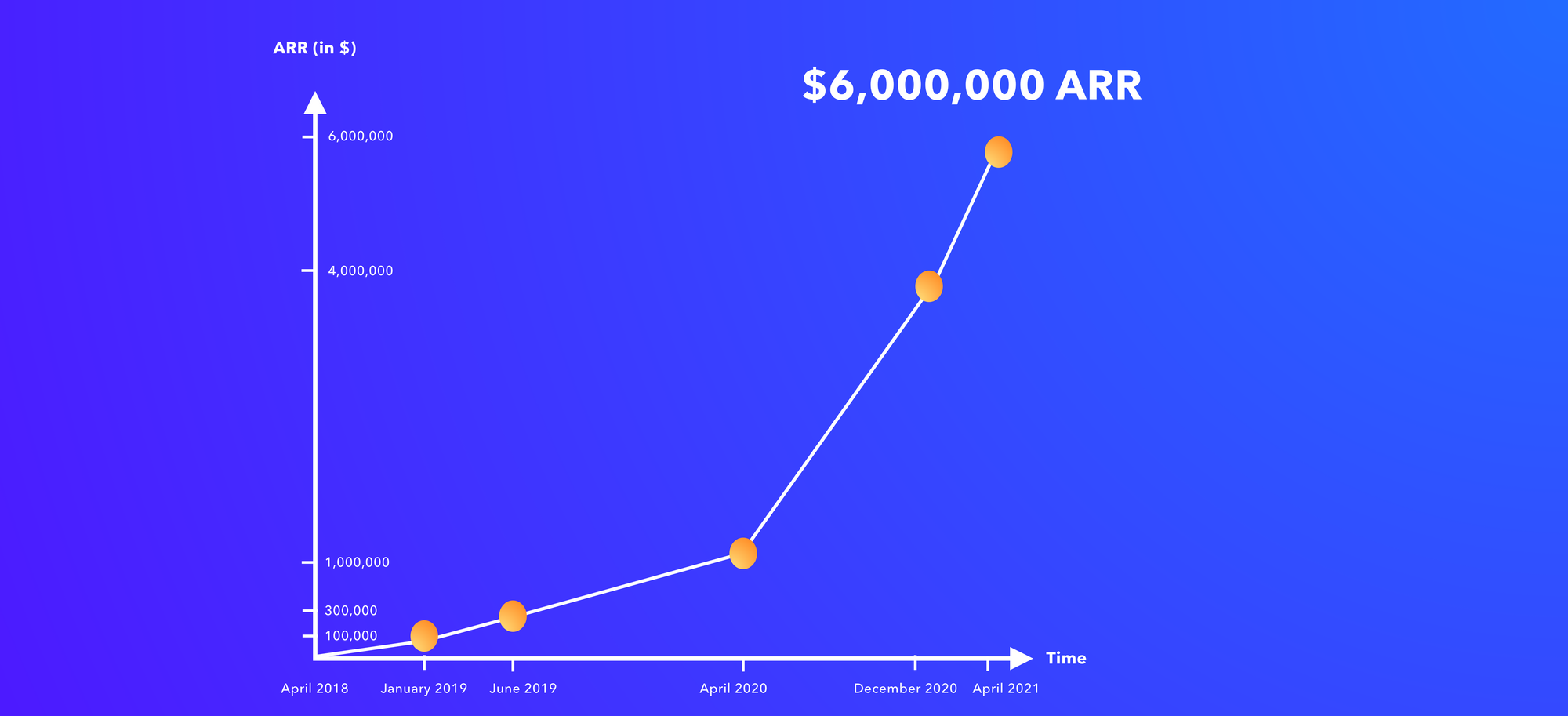 How?
We did things that we shouldn't.
In this article, I will reveal 6 things we shouldn't have done that made us successful.
But first, this article will only be helpful to you if:
You're a CEO or co-founder of a startup and you're looking for inspiration to grow your company
You're a Head of Growth / Marketing who want to get the bigger picture of what matter the most when growing a company
1- You shouldn't work on multiple acquisition channels - focus on one
"G. you don't have a lot of resources nor time - you should focus on the single acquisition channel you master and go all in so you're sure to get the best ROI possible over time" - Anonymous mentor
Everyone will tell you to focus on the acquisition channel that you master.
To me, doing one single thing is boring.
And let's face it, I didn't start a business to get bored 😅
From the early days of lemlist I worked on multiple acquisition channels that didn't require me to spend money (#CheapFrenchBastard 🇫🇷🥖)
The more acquisition channels I was testing, the better our growth was.
Each acquisition channel gave me an edge on the next one.
And all of these channels in connection with each other helped us grow.
That's why I call it the growth circle of love.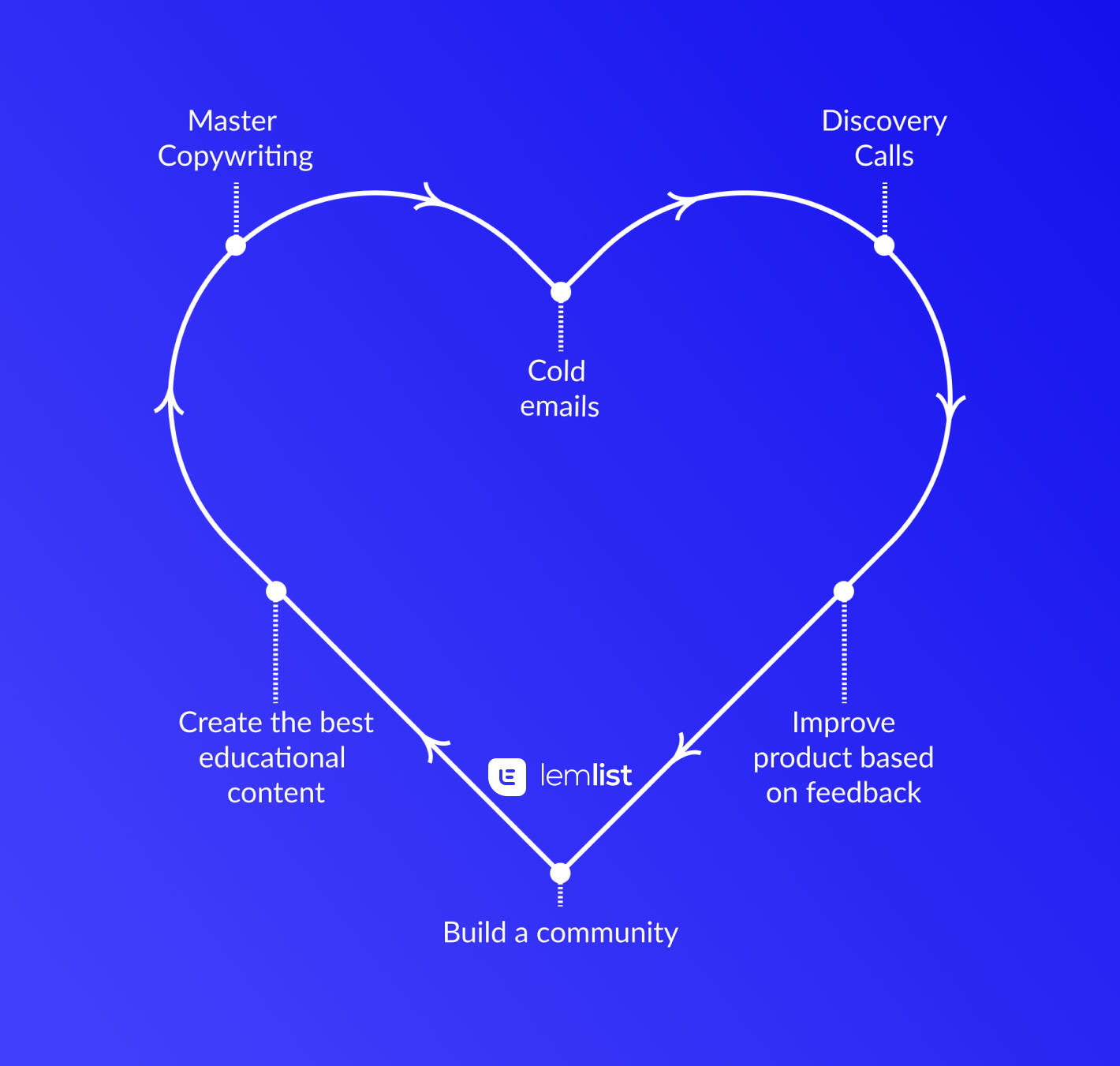 Let me explain:
I started sending cold emails because I was really good at it.
During my discovery calls, I realized that people were always struggling with the same topics.
So I decided to build a community in order to help more of our customers at scale.
The community gave us 2 big things:
1- Feedback so we could make the best product possible.
2- Inspiration to create the most actionable content possible.
We wrote articles based on the topics we saw being talked about in the community, and then mentioned the community in the articles.
This helped our community to grow.
Once I wrote the content I would share it on the community, which boosted the traffic of the articles.

As our reputation started to grow we got more and more backlinks, increasing our SEO and enabling our articles to rank on the first page of Google.
This in turn led to more people finding the articles on their own, and again increased the size of our community.
We wanted to be able to share high quality content on another vertical, so I started writing posts on LinkedIn.
After a few months, my posts were reaching hundreds of thousands of people each month, which dramatically increased my cold email reply rate.
Once I knew each acquisition channel I was able to hire the right people to start working on it.

I always say to master something, teach it.
That's what I did with my team, and what my team does with our customers.
Today, our team's cold email campaigns are rock solid.

Our team's LinkedIn post are reaching millions of people each month.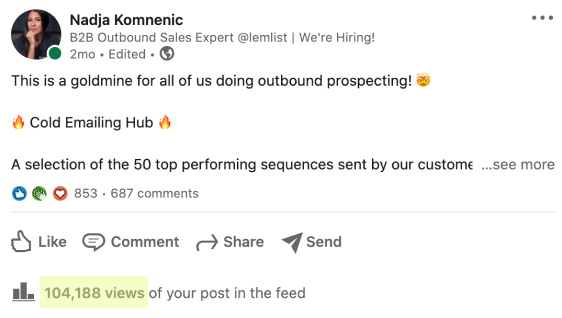 We built the biggest community ever created around sales automation.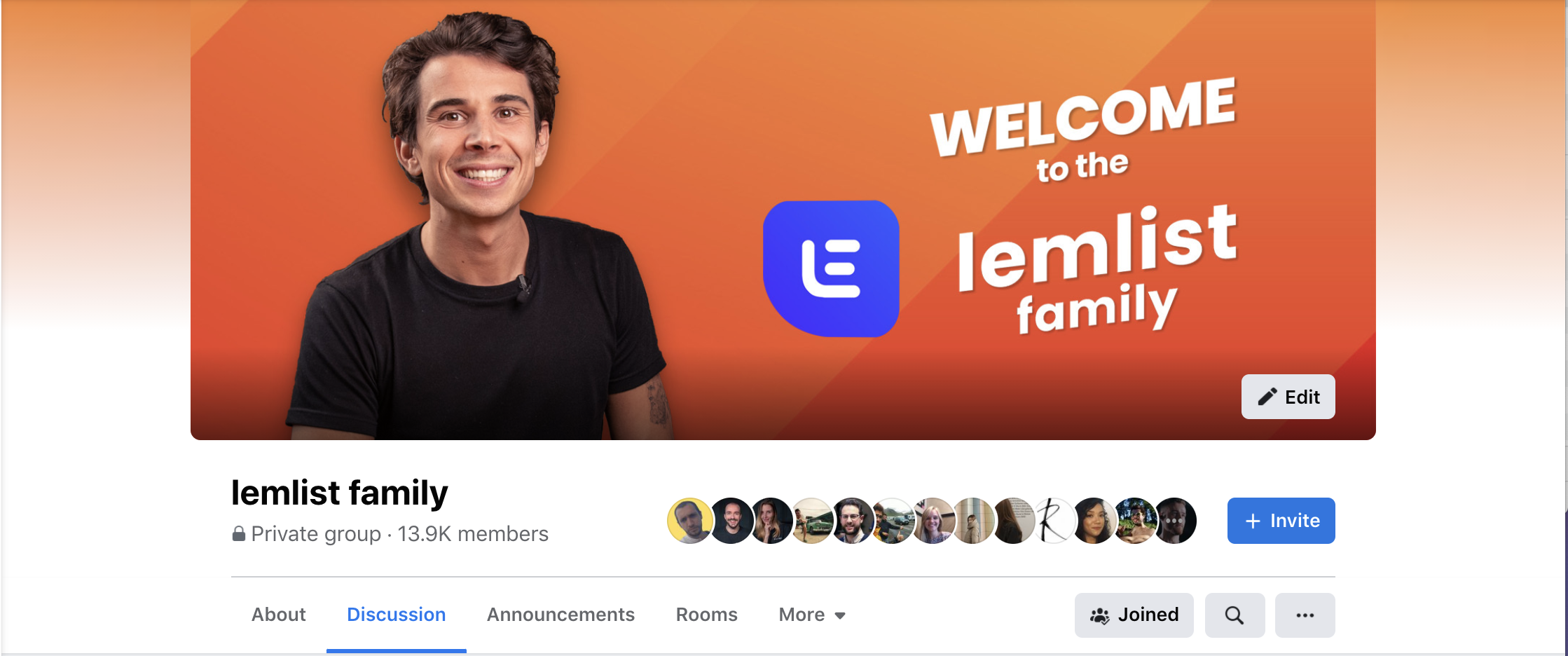 Testing all these acquisition channels at the same time made us want to test something that we "shouldn't" have tested 👇
2- You shouldn't work on multiple projects - focus on one
"Growing one company at a time is really tough. But growing two is suicide." - Anonymous VC
I remember these exact words from a VC when we launched lempod back in 2019.
18 months after starting lempod and growing that project to more than $600,000 in ARR it got acquired.

Since our goal with lemlist is to build the first french bootstrapped unicorn 🦄 , we felt like we needed to be 100% focused.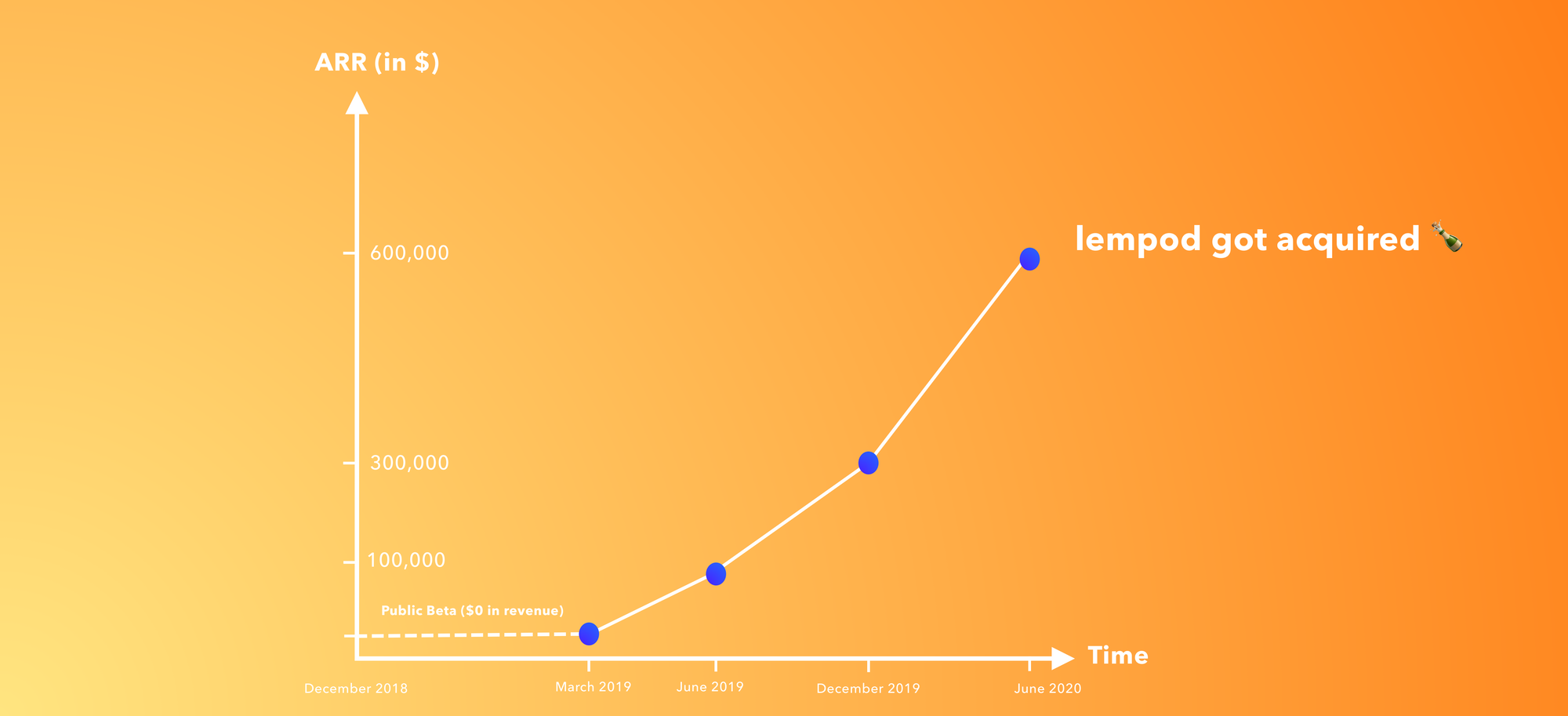 During that time, managing both lemlist and lempod was extremely challenging but it taught me three things:
1- When growing a business the success of your users should be your only focus
2- Constraints force creativity
3- Getting acquired can be a really quick process
Working on two projects at the same time was a great way for us to distance ourselves from lemlist a little bit in order to see the bigger picture.
On top of it, we also tried to implement new things at lempod and if it worked we would also implement them at lemlist.
Having these 2 SaaS projects forced us to think twice before each action, so we were sure that everything we did was ROI driven.
3- Your second employee shouldn't be a videographer
"Are you sure that you want to hire a videographer? Do you really think it's a smart investment? We're a SaaS company not a media..." - My not so anonymous co-founders
I remember the first time I told my two technical co-founders that I wanted to hire a videographer to help me record more videos.
I was producing a lot of video content but my editing and recording skills where very limited (to say the least 😅).
At first, Erwan joined us as an intern but we quickly started receiving tons of messages regarding the quality of our videos.
People where really connecting on a much more personal level and our videos became an amazing way to bring a much more human touch to the software world.
One year ago, we decided with Erwan to start a crazy project...
In our mission to help and inspire more than 1,000,000 entrepreneurs to launch a profitable business, we decided to start the first ever created docuseries about our crazy startup adventure.
My two co-founders and I will share all the toughest moments of our entrepreneur's life during which we built a multi-million dollar company.
This docuseries is called: lemshow
Below is the official teaser that has not been published publicly yet 🤯
Feel free to leave your comments on YouTube so we know if you're as excited as we are about the official launch 🚀
4- You shouldn't hire people with no track record after crossing $1m ARR
"Guillaume, if you want to keep the same growth rate, you need to hire people with a proven track record after you cross $1m ARR" - Anonymous famous CEO
On the business side (Marketing, Sales, Customer Support), no one had more than 2 years of experience when I hired them 😅
And 90% of the team didn't have any prior experience in SaaS (Software as a Service).
However, every single person I've hired had the same trait in common: The Grind mindset. The ability to focus and the determination to succeed,  so they become the best person they possibly can.
As a true believer in the great philosopher Michael Jordan 🙏
"If you do the work you get rewarded. There are no shortcuts in life." - MJ ❤️
When people are eager to learn I feel like there's nothing that can hold them back to reach their full potential.
Here are a few examples from our team.
Mina joined our customer support team with no prior experience in SaaS whatsoever. 3 months after joining us, she was a top performer with a 100% satisfaction rate from over 200 customer ratings 🤩

Vuk joined as our 1st employee with no prior experience in growth marketing - a couple years later he's now our head of growth and gets interviewed at international events.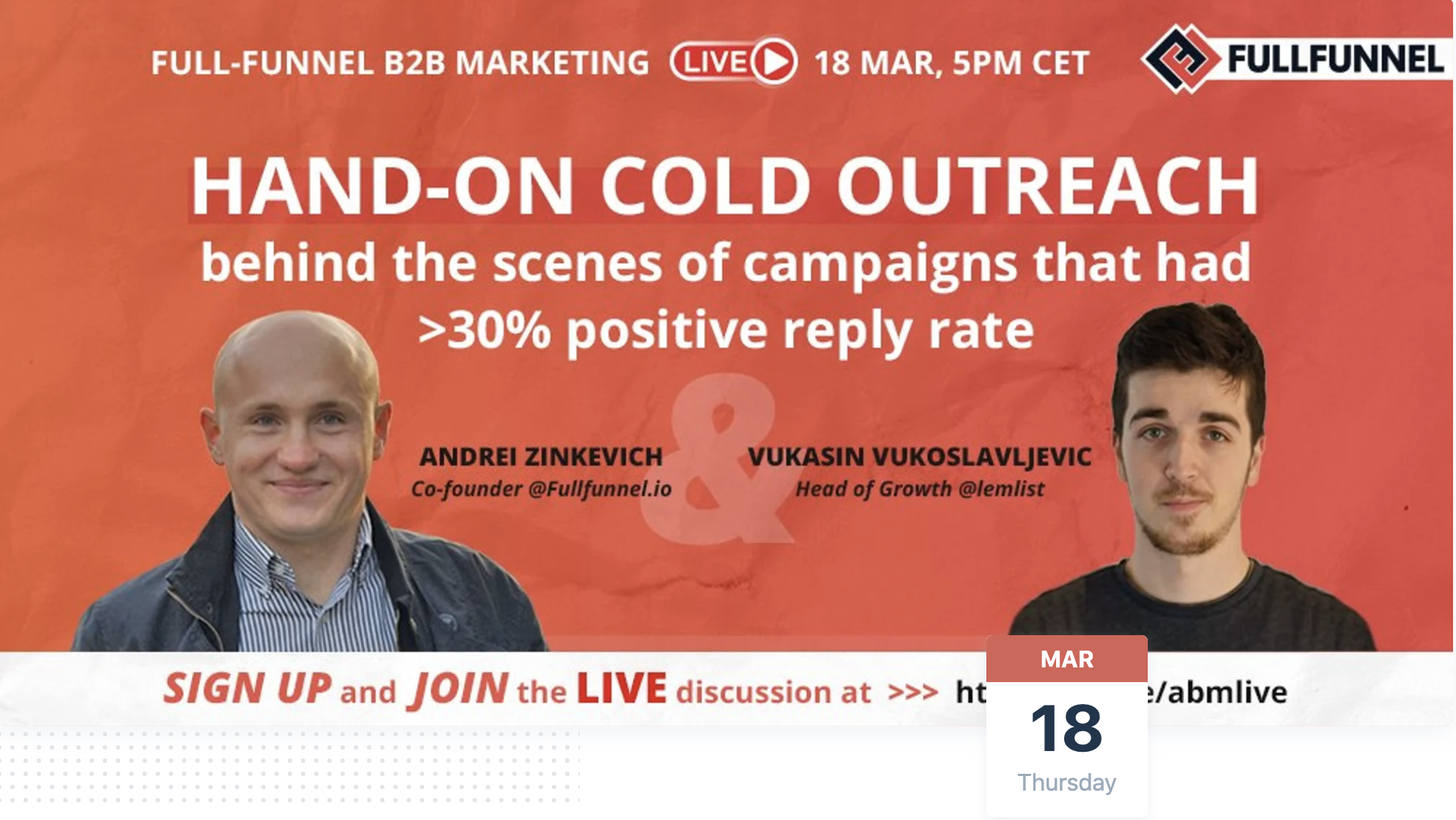 Roxana joined as a creative social media manager with no experience using LinkedIn. 6 months later her posts were reaching more than 2.5 million people and she was helping the whole team to reach millions of people each month.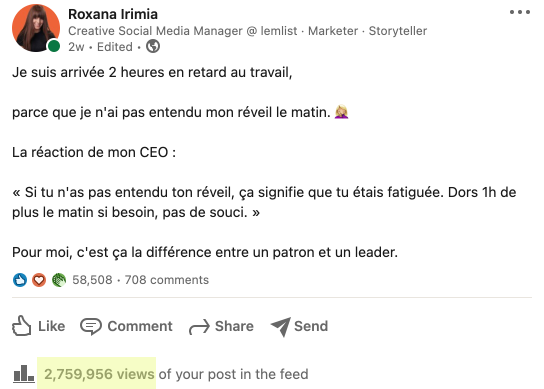 Daria joined with 0 experience when it came to outbound, now she's giving courses and trainings to hundreds of people.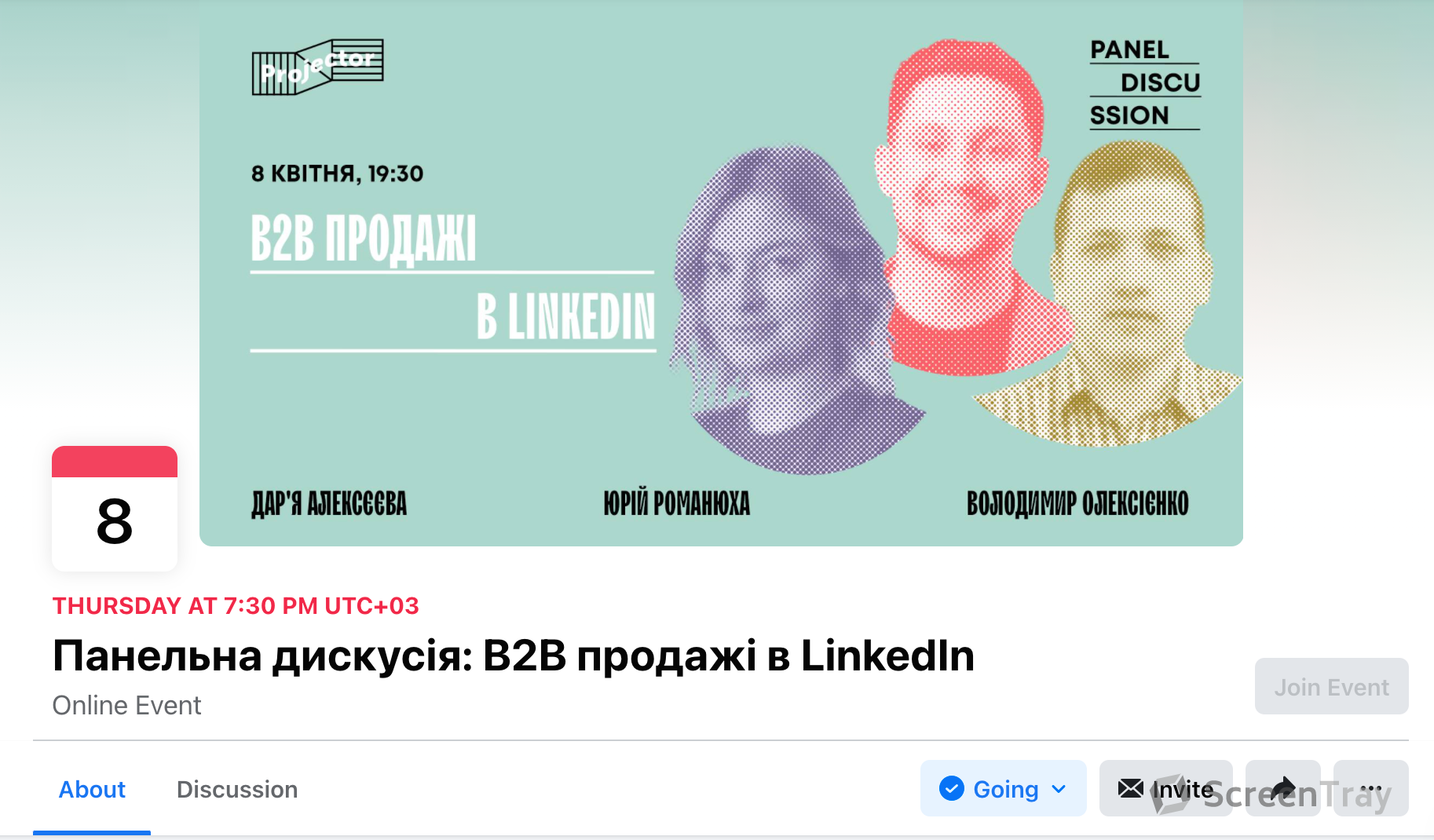 Nadja was our first sales rep, now she's managing a team of 6 people who are all crushing their monthly quotas.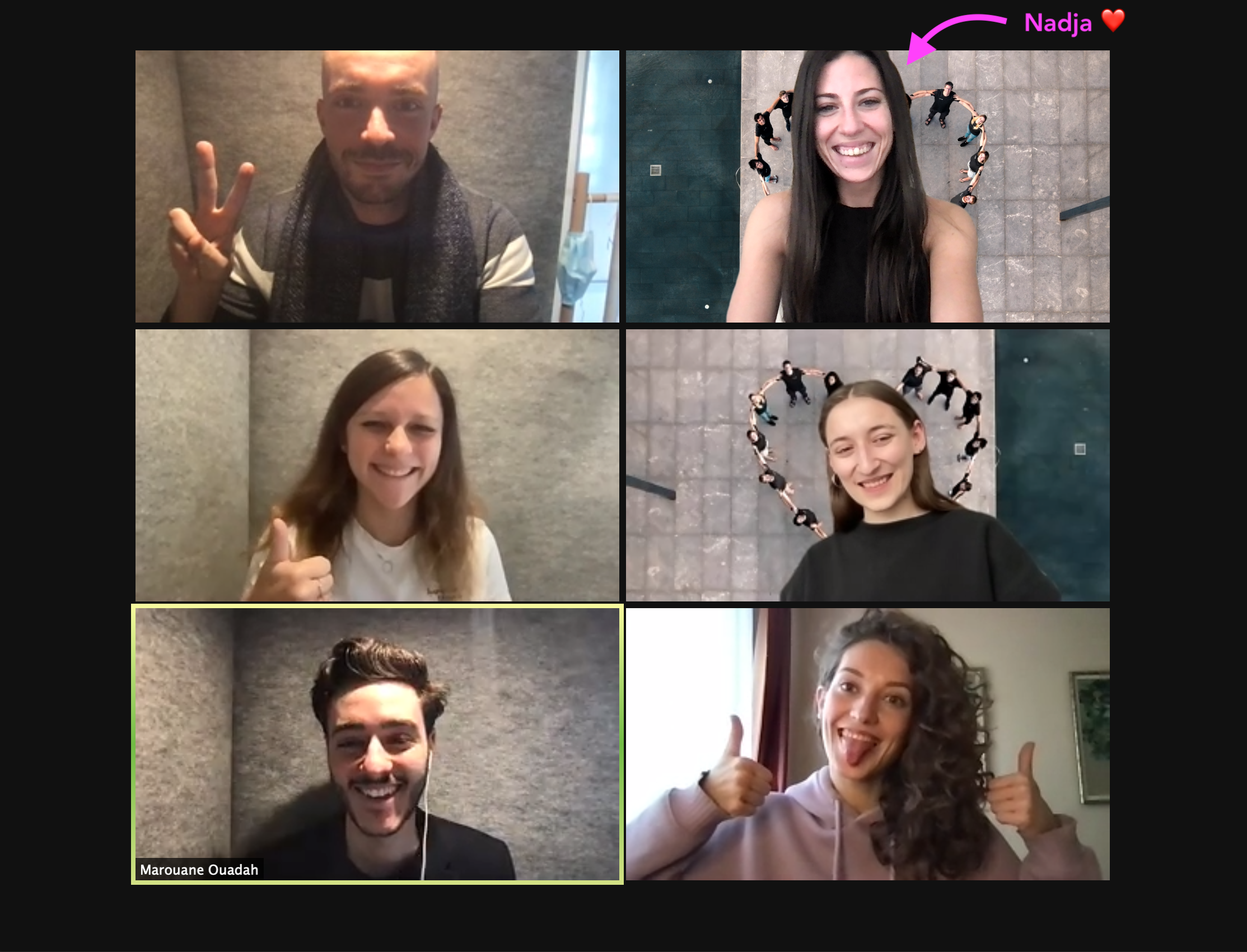 When Simon joined us, he had 500 connections on LinkedIn and his posts were reaching less than a thousand people. Now he has more than 7,500 connections and his posts can reach up to 250,000 people.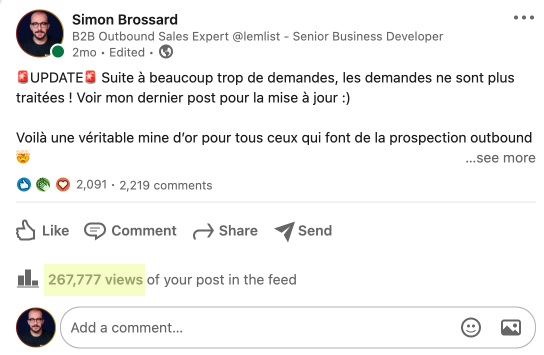 Lucille joined us after graduating from her business school and now she's managing our new side project, lemstash.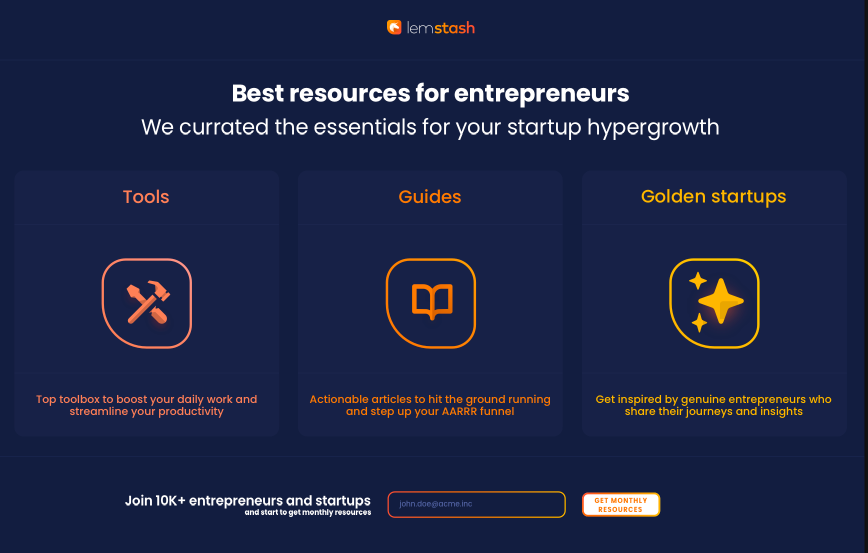 When I started, I had 0 experience in growing a SaaS business. I did everything on my own for the first 18 months. From customer support, to sales, and even all of our content marketing.
I didn't know every single aspect of how a business should be operated, but I learned.
Our team, on top being of grinders, are all learners and to me this is 1,000 times more valuable than any track record you can have.
Because no matter what problem you're facing, you know that you can find a solution.
"Impossible only means that you haven't found the solution yet"
5- You shouldn't do things that you can't measure
"If you don't measure each of your actions, how do you know where to double down and where you should stop focusing?" - Anonymous head of growth
There's a huge trend in startup growth teams to be super data driven. Which is good but often way too over-engineered in my opinion.
You can't measure everything in business.
It's simply not possible.
I really like Tim Soulo's view on the ROI of content marketing, for example.
Essentially, what Tim says is that it's impossible to measure the overall ROI of content.
To him, measuring the few things you can actually track will only be the tip of the iceberg. And for Ahrefs, even if these numbers wouldn't be good, they will not stop creating content because they know that it's working for them. (We're talking about a startup that didn't raise any funding and that is over $80m in ARR)
I think that measuring everything and trying to see the ROI on every single action you do is definitely reassuring, but most people don't really see the hidden costs.
I've seen a lot of startups that are lacking common sense because they think they are measuring everything (which is not possible to be honest).
For example, a lot of our content is about giving actionable tips to the community so our users can be more successful. We know deep down that it's working for us.
But how would you measure it precisely? It's not possible. Some things you do impact the word of mouth, the activation rate, the retention etc... But attributing one action to one metric is, in most cases, simply impossible.
I prefer focusing 100% on bringing more value to our community and users so they are as successful as possible, rather than spend 100s of thousands of dollars trying to measure everything.
If your only focus is to make your users/customers successful, there's a 0% chance that you won't succeed over time.
And to me, that should be your only focus.
We just crossed $6m in ARR with a team of 30+ people, 0 external funding, and we still have a 2 digit month over month growth rate without tracking everything.
6- You shouldn't say NO to a $30m investor offer
"If you get offered money from investors, take it! You should always raise when you don't need the money" - Anonymous billionaire
In the media it's simple, the more money you get from investors, the more successful your company is.
Even though, 9 times out of 10, startups who have raised money will fail...
2 months ago, we got offered a $30,000,000 offer from investors and we said NO.
In the video below, I explain WHY?
What's next
Our goal now is to really structure the entire team as we've been hiring a lot of people in the last year (from 8 people to almost 40)
We think that we can do a lot with a small team so I really want to spend time with the team to make sure that everyone is becoming the best in their area of expertise.
Our yearly revenue goal is to reach $10,000,000 ARR and we will also be launching more courses on how we were able to scale so fast so quickly 🚀
In our continuous mission to help and inspire 1,000,000 entrepreneurs to launch profitable businesses, we have decided to produce the best content ever created.
It will start with our docuseries, lemshow, where my two co-founders and I will share the process of going from being broke to making our first million dollars in less than 2 years 🤯
I have also started a weekly vlog where I'll be documenting the behind the scenes of how we're growing our multi-million dollar company 🚀
If you have questions, want to connect with me or if you just want to send us some love here are some helpful links: