15 years after finishing middle school, I received this Tweet 👇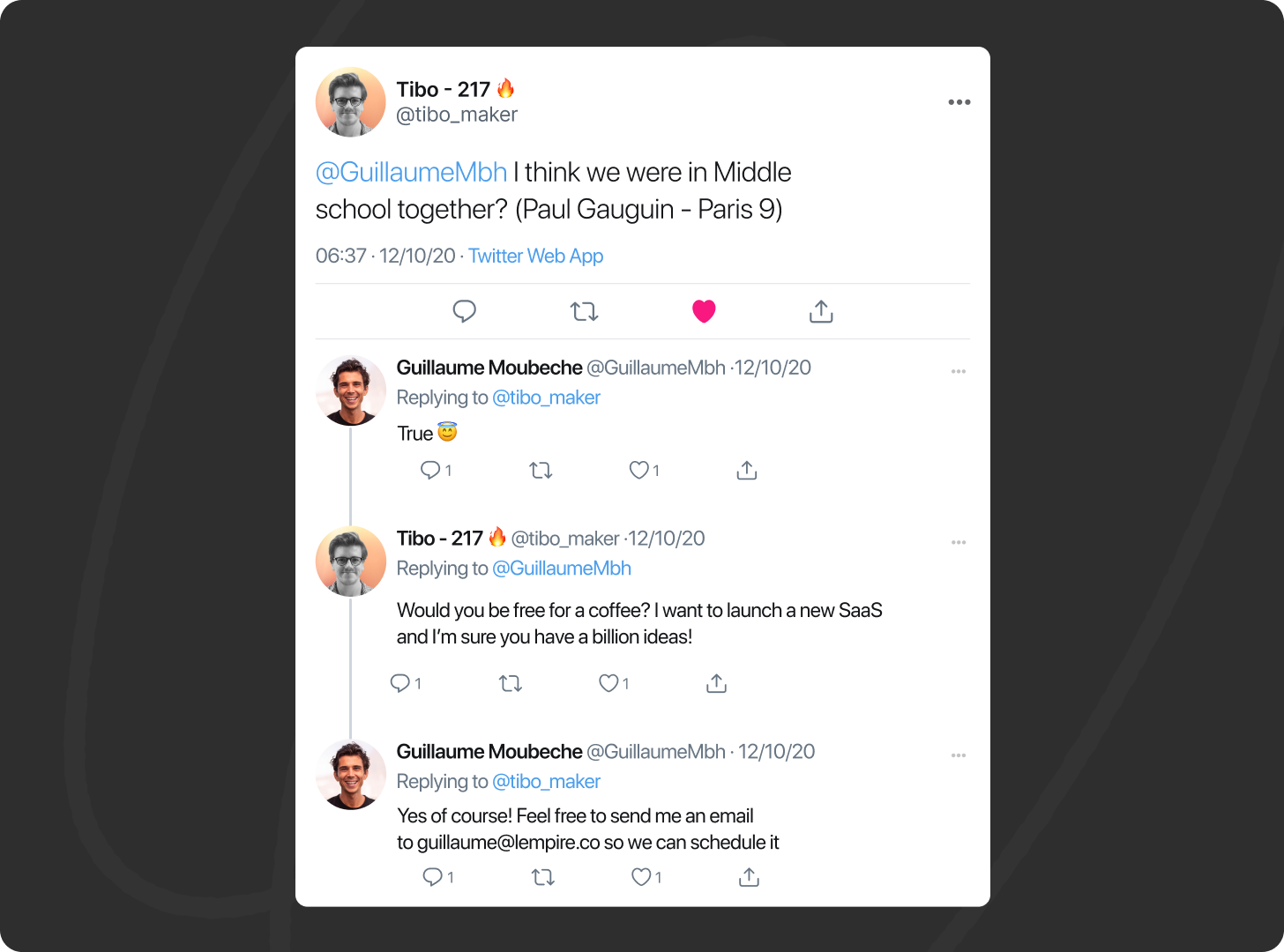 The 15 minutes coffee turned into a 3 hours meeting where we discussed all the opportunities I saw in building a new SaaS (Software as a Service) for creators.
22 months later, I would turn Tibo, my middle-school mate, into a multi-millionaire.
In this article, I want to detail the acquisition of Taplio and Tweet Hunter and explain why it will play a huge role in lempire's future.
Acquiring a new SaaS company
2022 was a very intense year! My two co-founders, the head of growth and the head of sales, left the company.
And despite all these challenges, I never stopped being so excited about the future (diamonds are made under pressure, they said 😉).
Part of my excitement came when I started to think of acquiring a new SaaS company.
When they first started, Thibault Louis-Lucas and Tom Jacquesson were building a new SaaS project every month.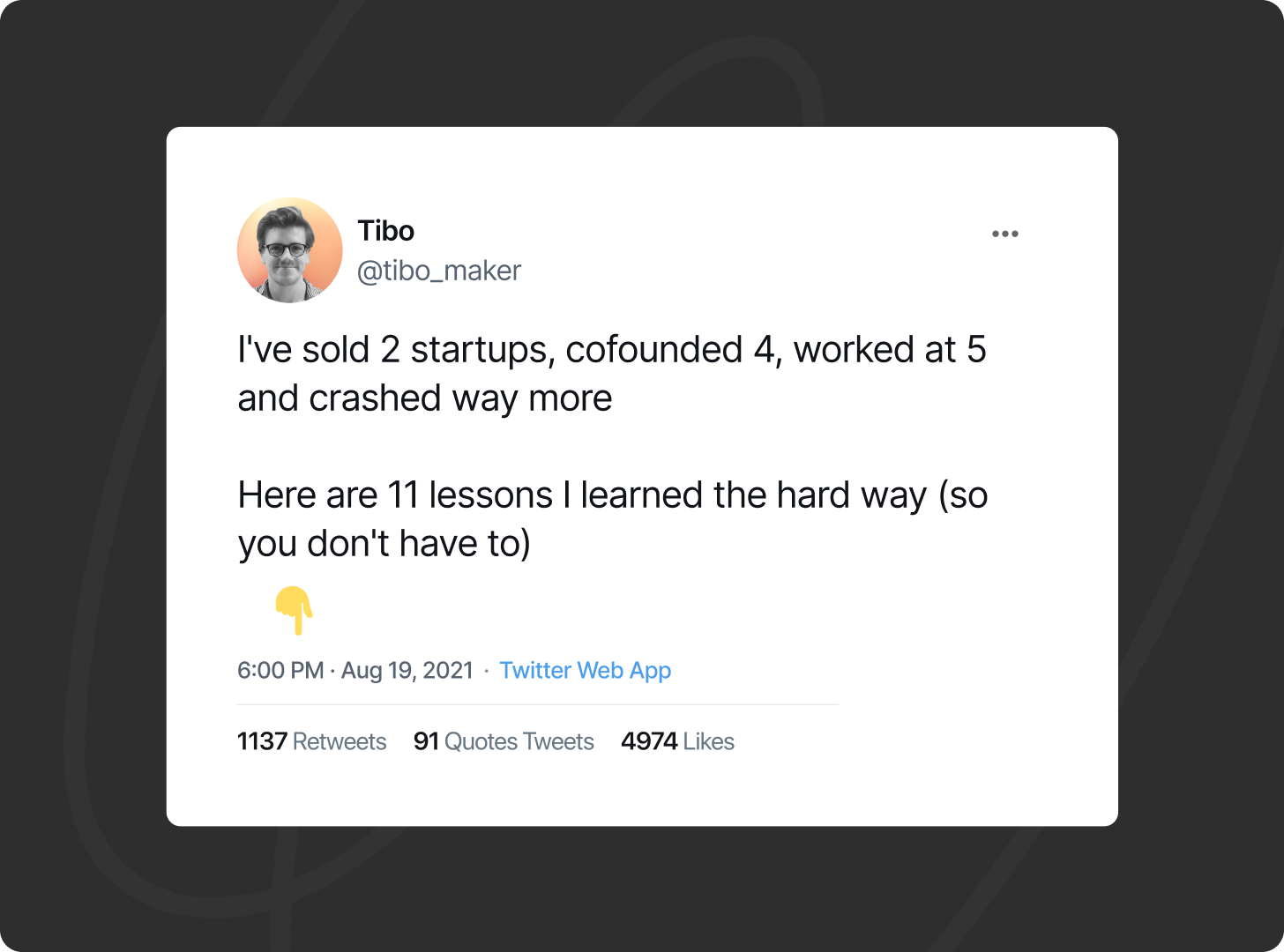 Their goal was to find something that would stick.
Their strategy was to share all their projects on Twitter, and as soon as they got some traction, they doubled down on it!
That's what happened with Tweet Hunter, a tool allowing you to build and grow your personal brand on Twitter.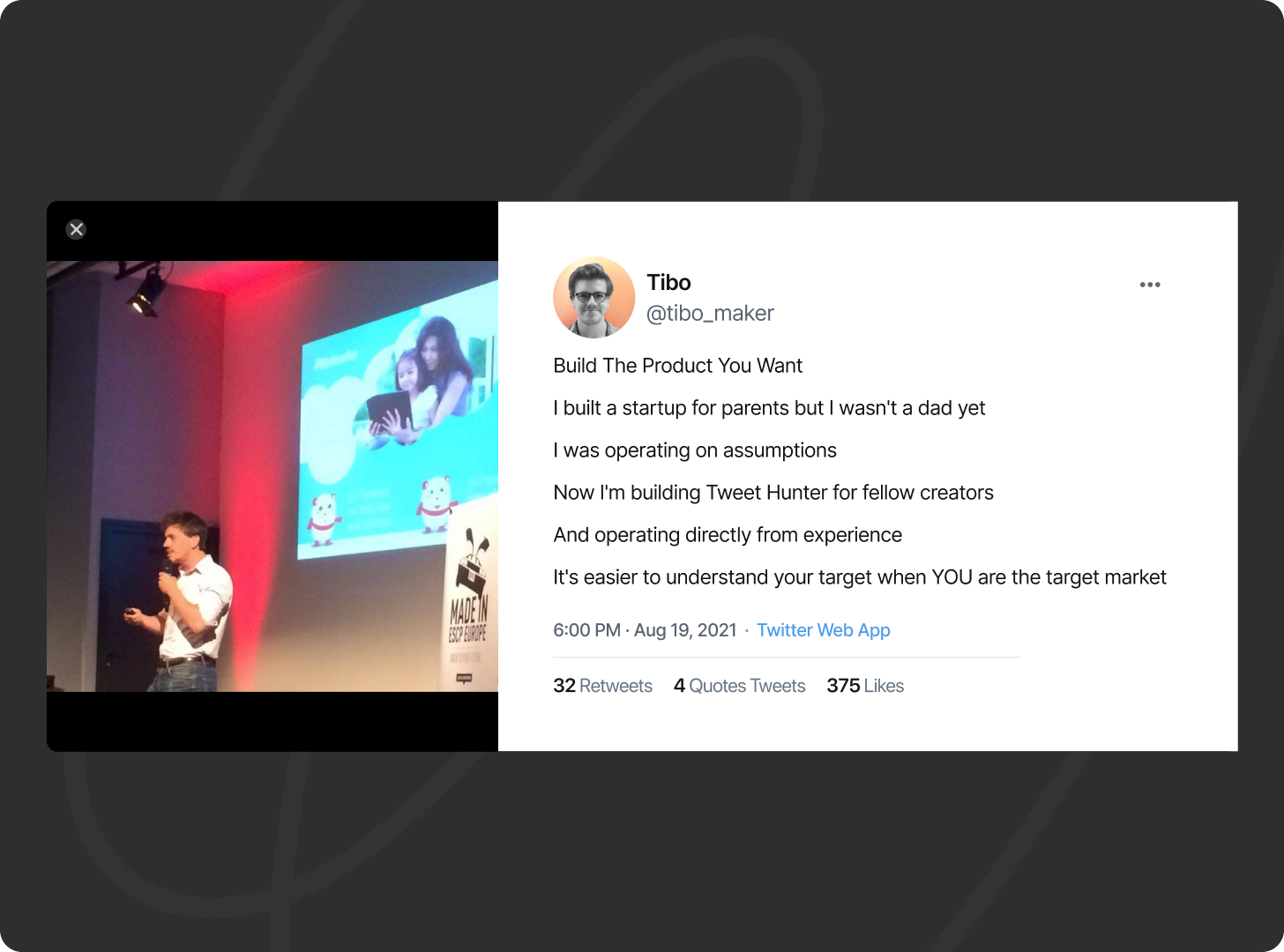 After a few months, I became a paid customer. I had never been active on Twitter, but in less than 3 months, I got 10k+ followers and connected with people I always admired.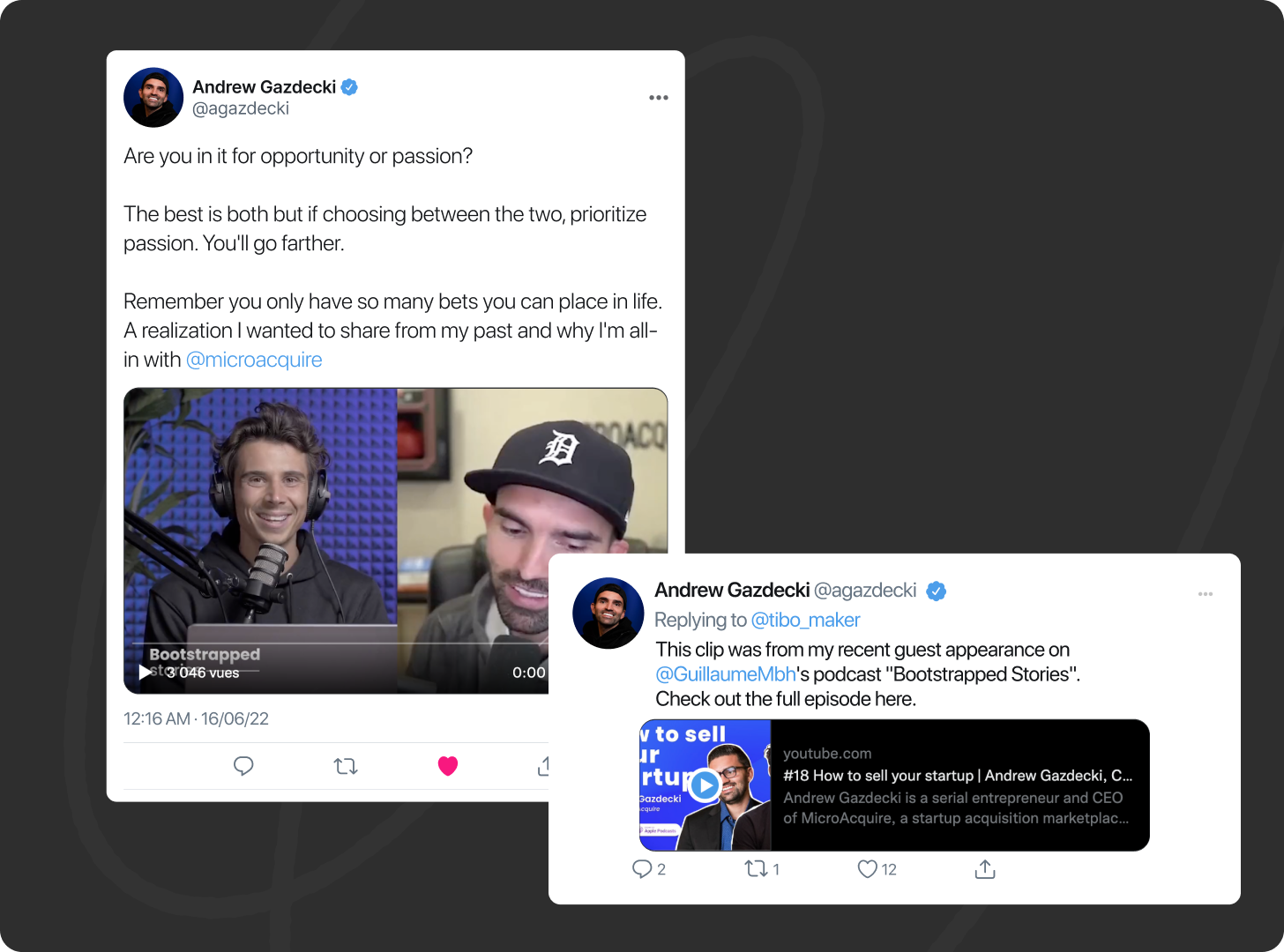 I realized how powerful this tool was, and I quickly fell in love with the product and its simplicity! But there was one thing I didn't understand… why was it only available on Twitter?
I'm much more active on LinkedIn, generating millions of impressions monthly. Plus, I always felt that for B2B, LinkedIn was the go-to social network.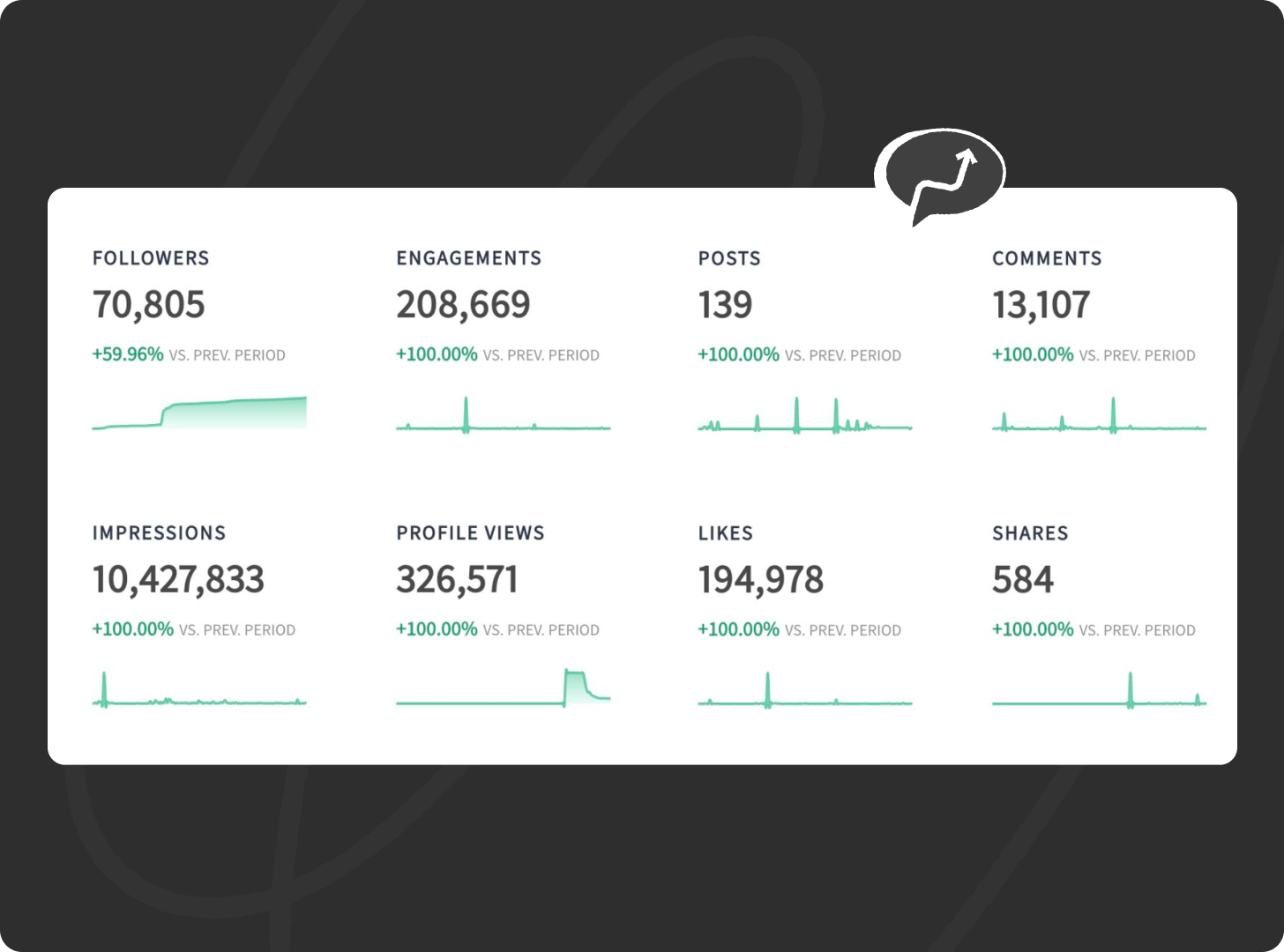 So I asked Tibo about it.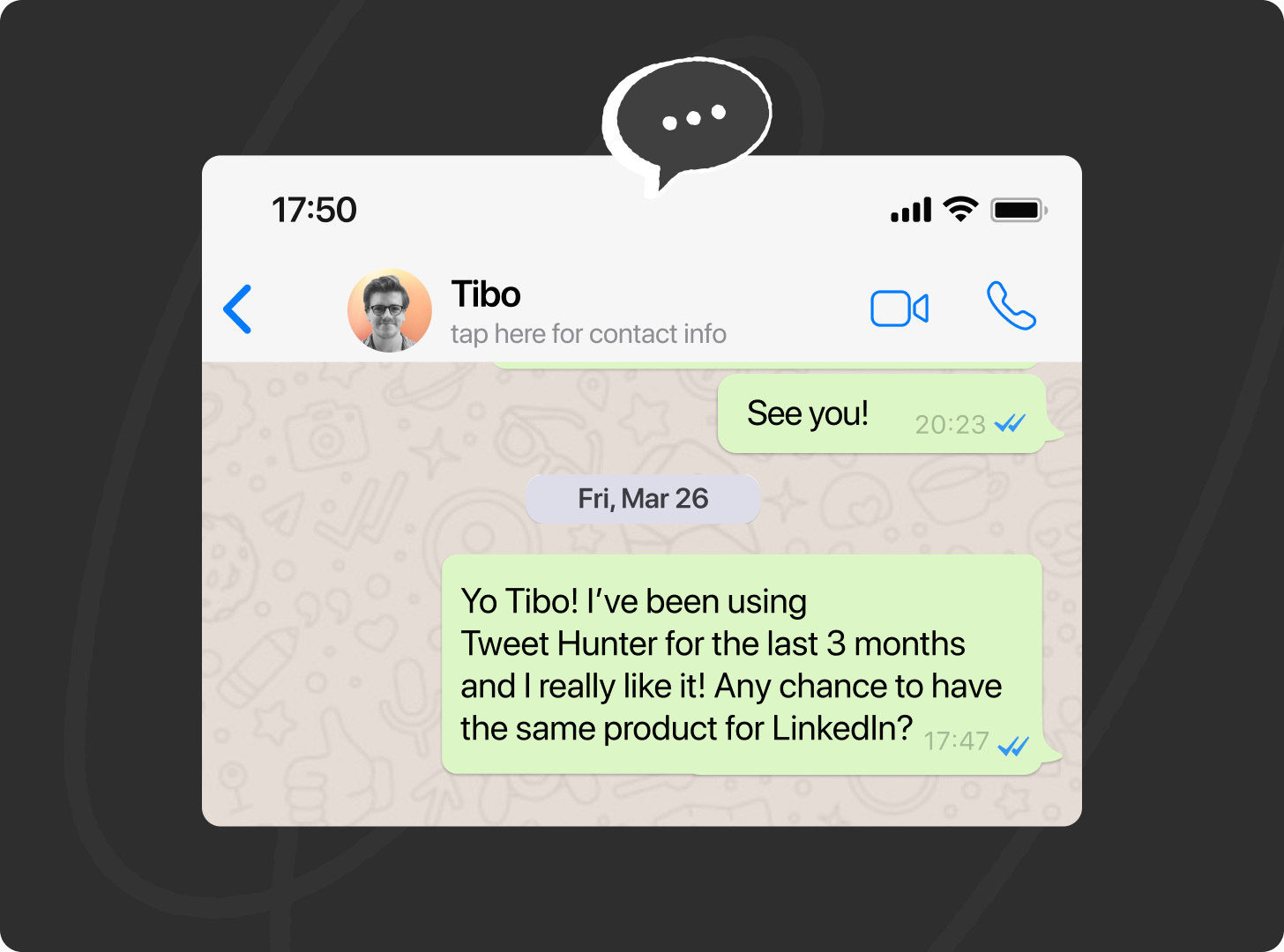 One week later, I received a link to a beta for Taplio.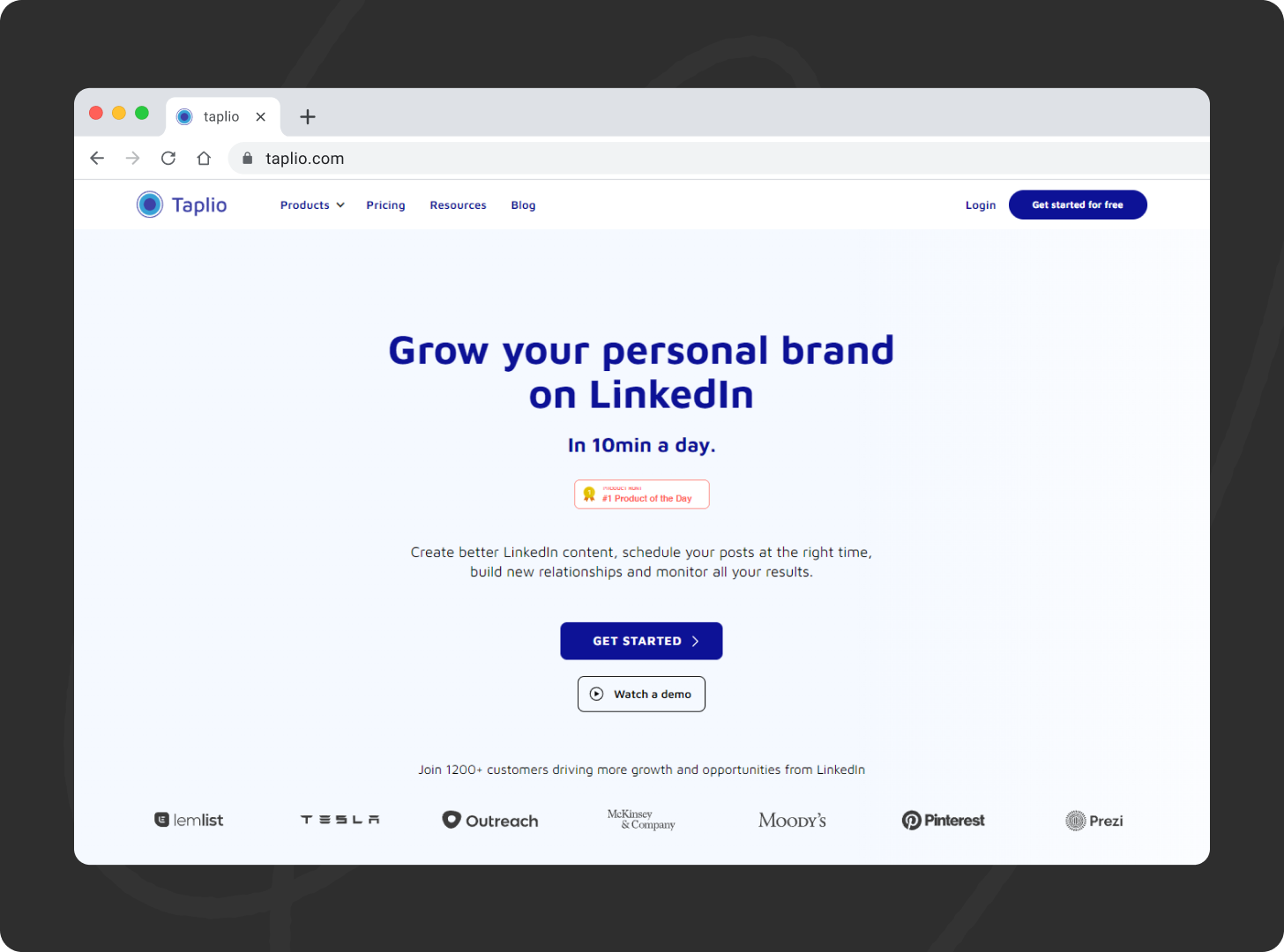 That's when I realized these guys were grinders and shippers like myself.
A month later, Tibo reached out to me because he wanted my advice on a potential exit strategy. They had just received an offer and he knew I had already sold a SaaS.
We had lunch in Paris, and we discussed the offer. It was a multi-million dollar offer with one condition: they had to stay and work for that company for at least 2 years…
I remember saying, "Well, if they're asking you to stay 2 years in the company, I would also make the same acquisition offer!" and then we laughed…
That same night I received a message from Tibo telling me: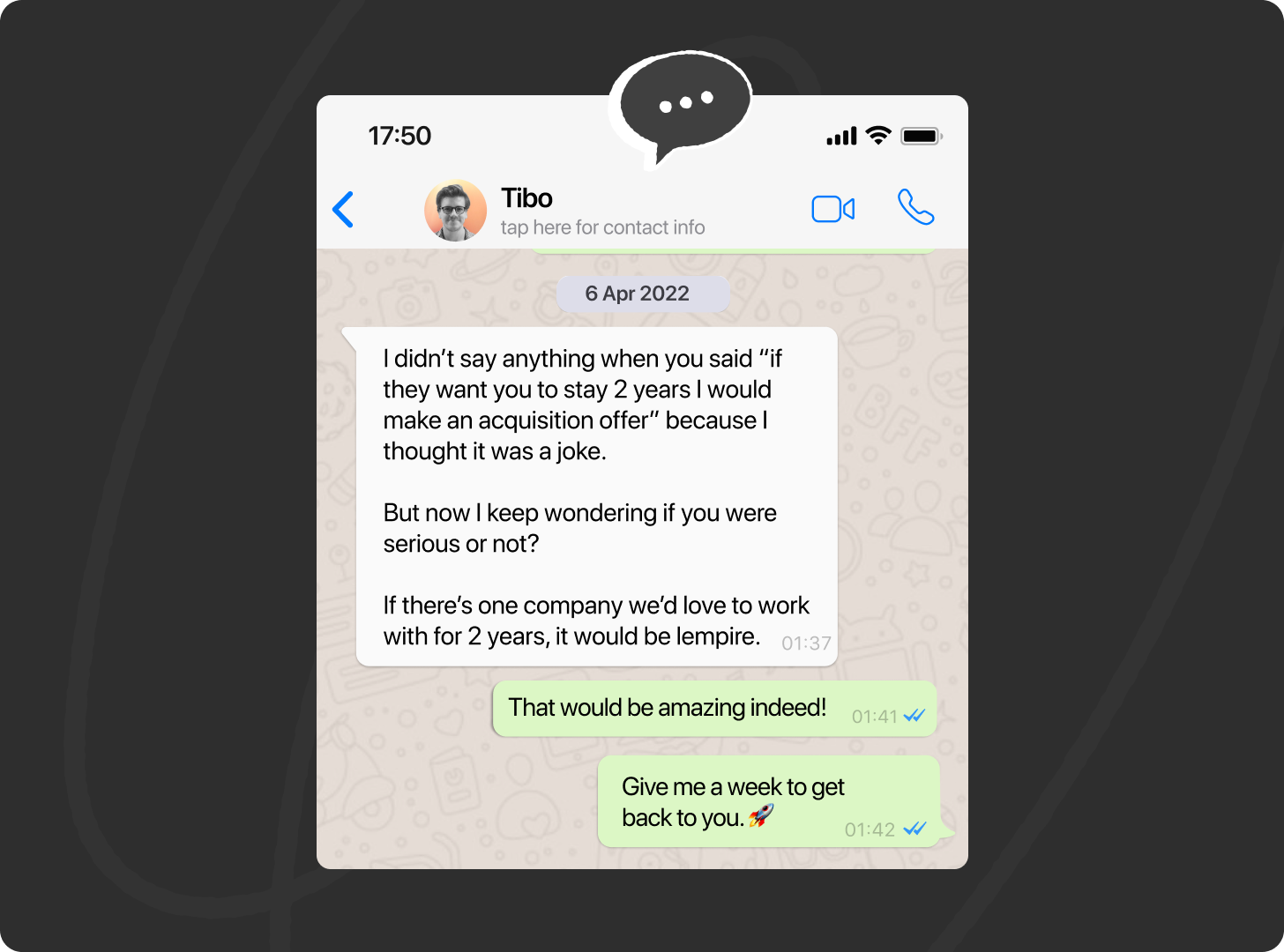 A week after I made an offer…
The offer
What I love about making a deal between entrepreneurs is that we can talk openly about what we really want. There's zero upsides to lying or hiding things during a deal because the goal is to design a win-win situation down the line.
So we spent a lot of time with Tibo and Tom to create the best deal possible to align everyone's incentives.
When acquiring a company, you need to understand 2 things: the first one is "what's in it for them?", and the second is "what could they lose?"
What's in it for them:
a life-changing amount of money (become multi-millionaires)
be part of a bigger and more ambitious project they like and can learn from
grow faster by doing a lot more cross-sell and partnership with lempire
What could they lose?
That's why we decided to structure the deal as follows: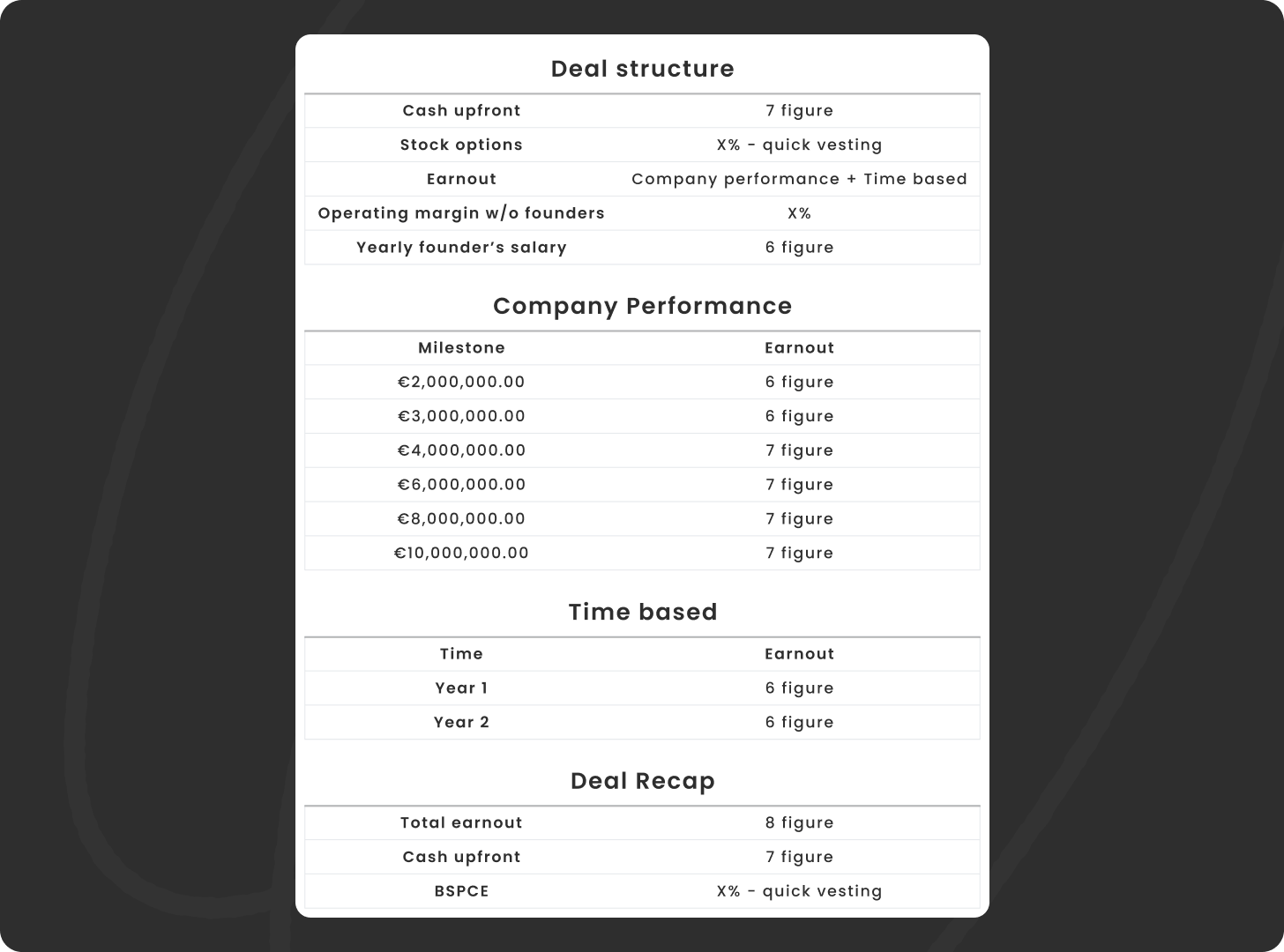 What I like about the deal structure is that it aligns with everyone's goals.
For lempire, we want the acquisition to be as profitable as possible, so we want both Taplio and Tweet Hunter to grow as much as possible. That's why the earnout structure is based on revenue goals.
We also want the company to be healthy, so we added an operating margin limit. That way, we know the company operates the same way lempire operates.
To align with the growth of lempire and incentives on working together closely, we also added stock options with a short vesting period. We've also decided to value their time with a time-based earnout.
With this structure, all incentives are aligned and the risk is managed on all sides.
What I really like about an acquisition process is that you can do pretty much anything you want. So you can be as creative as possible to ensure everyone is aligned.
But you're probably wondering why a sales automation platform would acquire a tool to build a personal brand, so let's discuss that!
What's next for lempire

Our mission: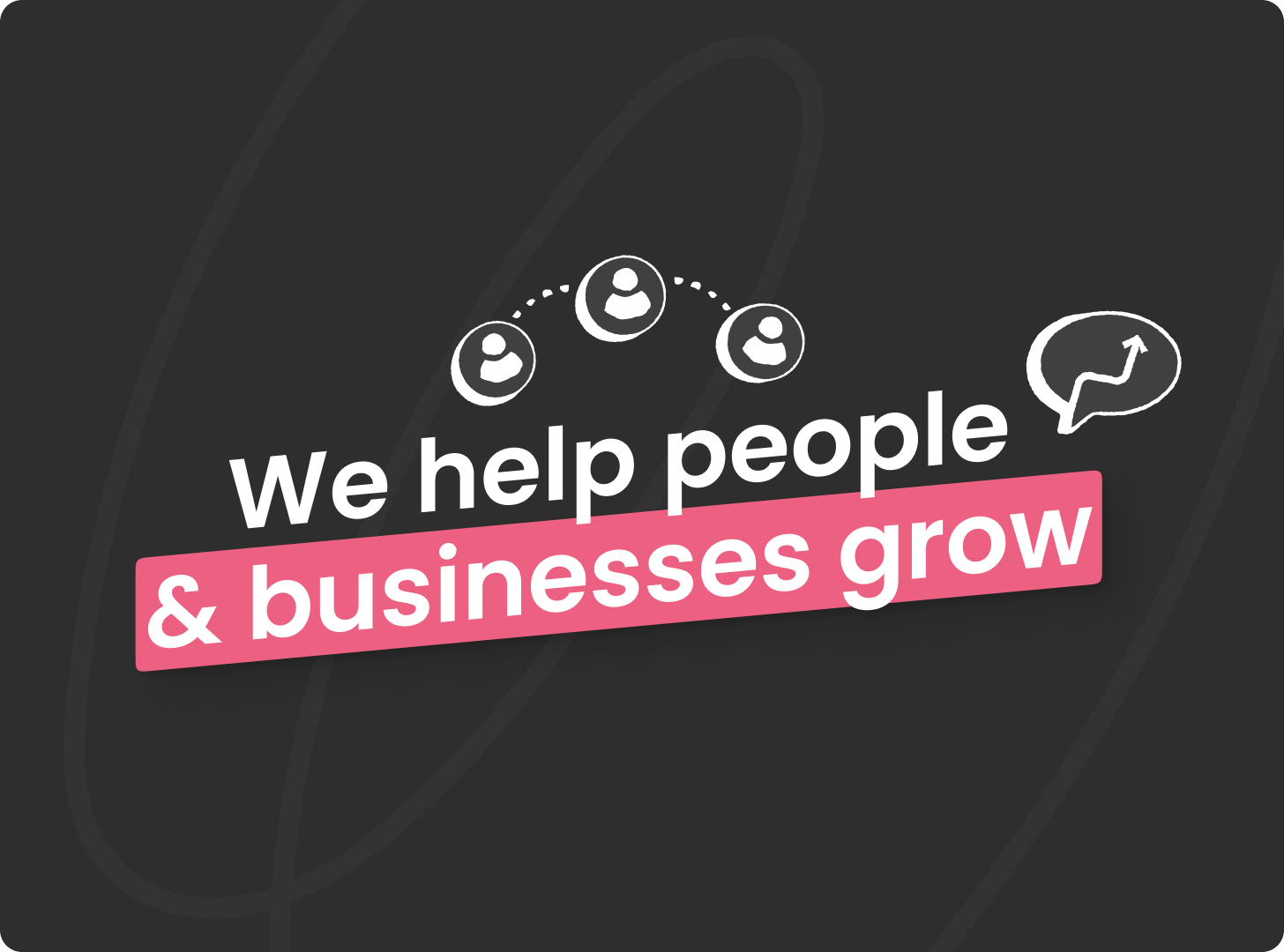 And after building a $150m business and selling another SaaS in just 4 years, I can tell that growth always comes back to one thing: "sales."
If you can't sell your product or service - it will be impossible for you to grow your business.
So after closing several multi-million dollar deals in the last years, I realized we needed a new definition of "sales".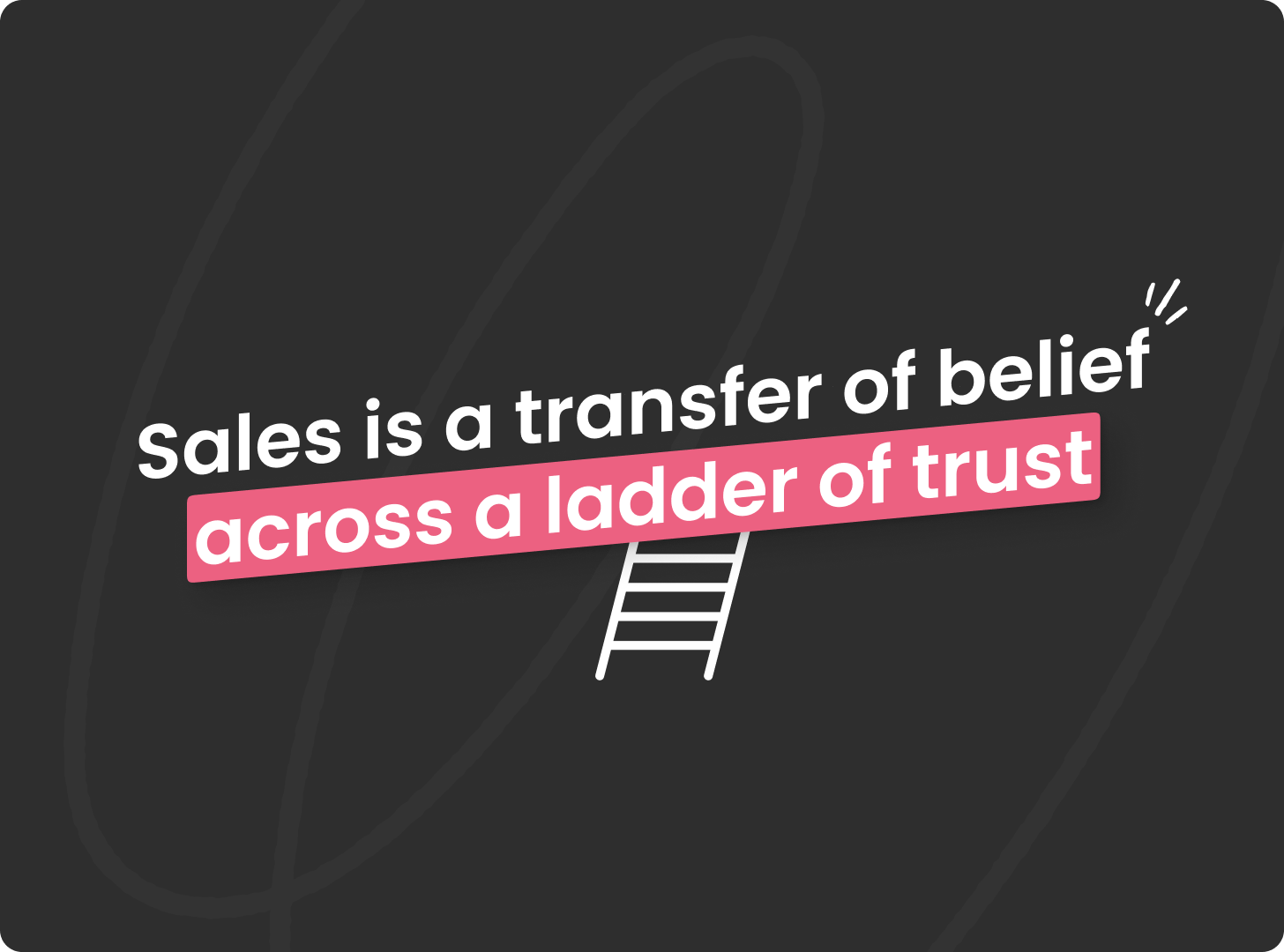 Let me explain... As a seller, you are convinced you can help your prospect solve an essential problem with your service or product. But for your prospect to allow you to help them, they first need to trust you.
Let's say that you are hungry and want to eat something. Even then, you need to trust the restaurant to serve you food that's not gonna make you sick.
But why a ladder? Well, if any side of the ladder is missing, you won't be able to help your prospect solve an essential problem.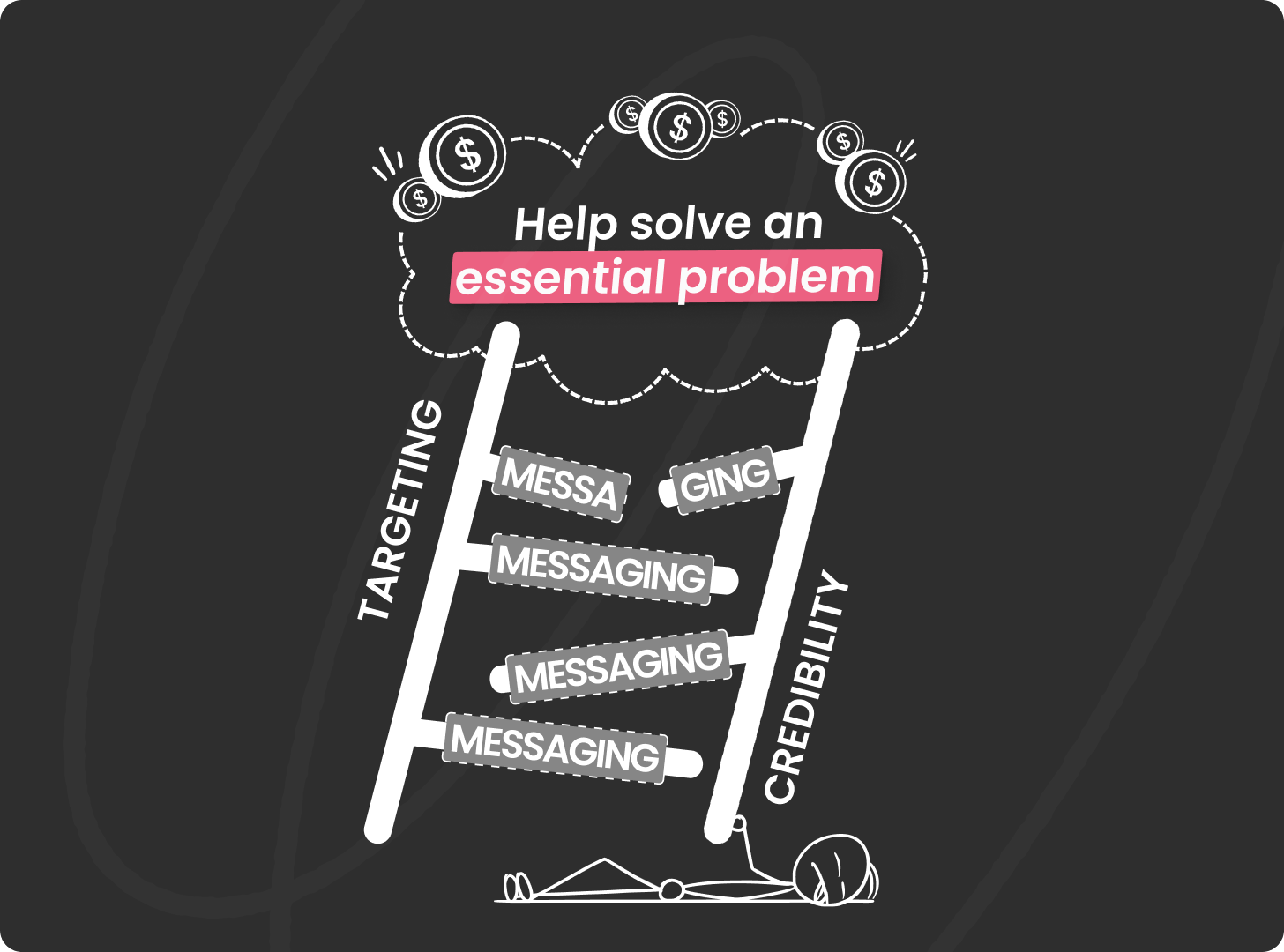 Each side of the ladder impacts how quickly you can build trust.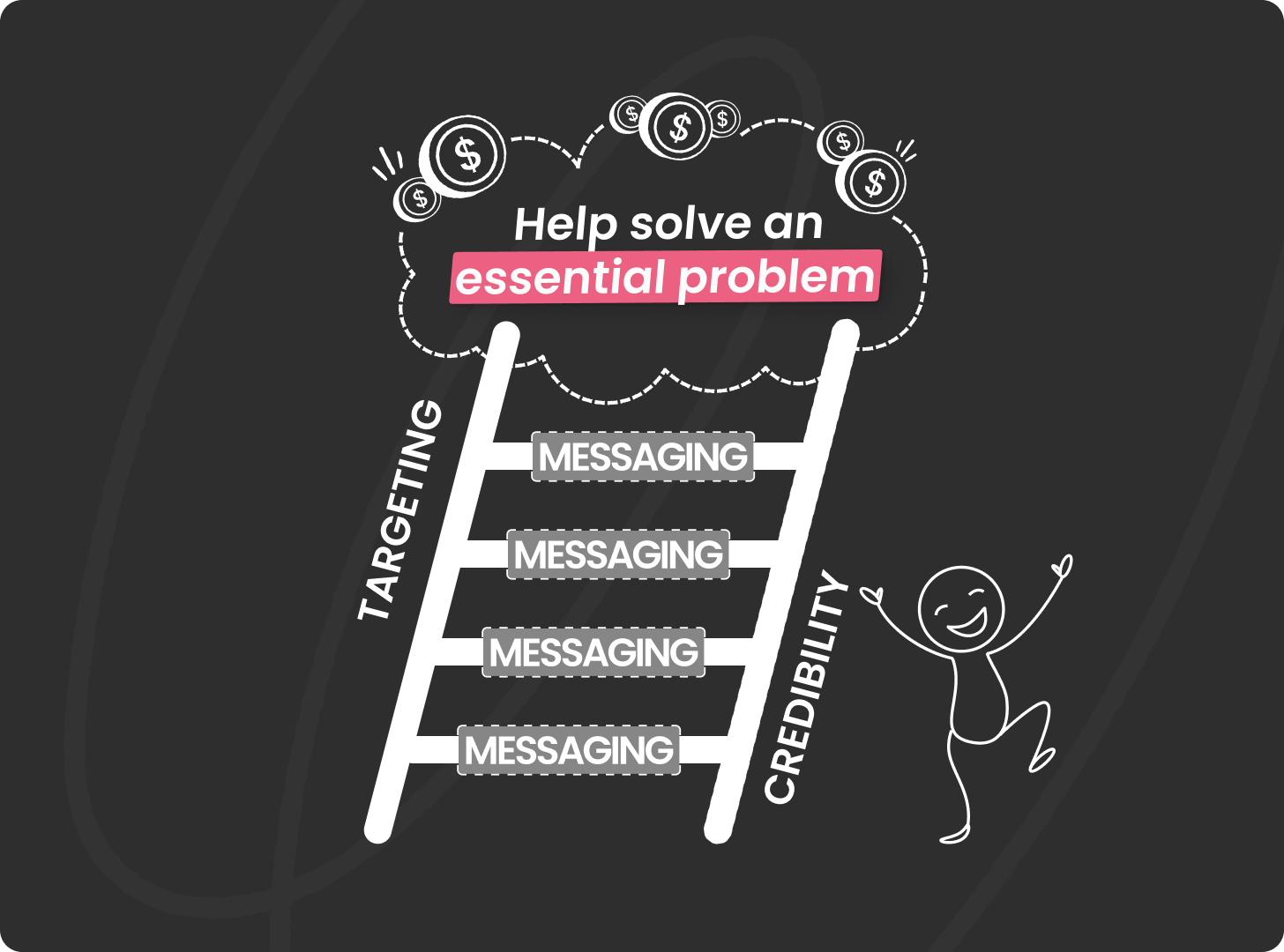 Targeting is all about who you talk to. For example, if you open a bakery in NYC and use traditional flour while targeting gluten-intolerant people, it will simply not work out.
Messaging is how you convey your message so you can clearly make your point.
And the final part is credibility.  And what can increase your credibility in today's world?
Your personal brand!
The traditional sales team structure is as follows:
Sales or Business Development representatives (SDRs, BDRs) to book meetings
Account Executives (AEs) to close deals
Customer Success Managers (CSMs) to onboard customers
But more and more companies are shifting to a more capital-efficient structure where we see "full-cycle sales reps."
Essentially a full-cycle sales rep is someone who can deal with the entire sales cycle from booking to closing. The booking part is supported by the help of sales ops or growth teams, which automate many of the SDRs' tedious jobs of finding and qualifying prospects before reaching out to them.
So why is credibility so important?
In today's world, we can find pretty much any information about anyone in just a few clicks.
In B2B, the buyer easily assesses credibility by simply checking your LinkedIn profile (who hasn't checked someone's LinkedIn profile after receiving an email from them?)
When you land on someone's profile and see that they are consistently posting and getting engagement, what's going to come to your mind? This person knows what they're talking about. So you go from a total stranger to someone they can trust and would like to spend time with.
And that's how people build billion-dollar businesses, just because they have a strong personal brand.
As a team, we've also managed to generate 20M monthly views on LinkedIn by creating a powerful personal brand playbook that generated many meetings booked for our sales team.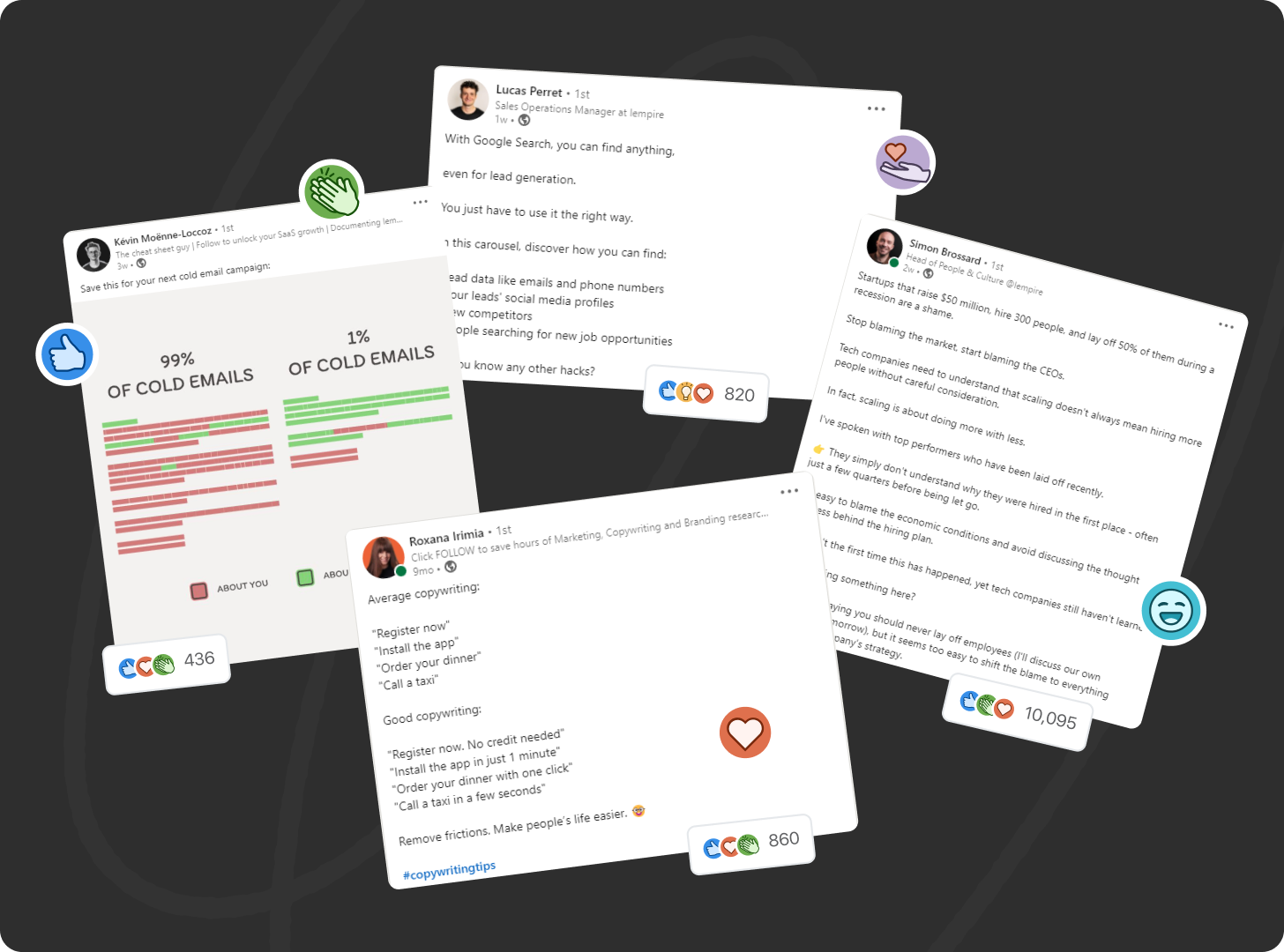 Since we already addressed targeting and messaging, we needed to add an extra layer of credibility to our product offering hence this acquisition of Taplio and Tweet Hunter.
In the coming months, we will launch a lot of new playbooks, so make sure to join our free community if you want to grow your business. Also, we have 10+ open positions for everyone who wants to join the adventure.
If you liked the article, hit that share button as many times as possible ❤️