In this article, I want to discuss how we managed to go from 0 to a successful exit of one our SaaS projects.
Because all articles I've read never go into the details, I'll be super transparent with this one and share:
Last July, I wrote a detailed article about how we managed to grow multiple SaaS projects to $2m ARR in 2 years and with no funding.
I also explained why we decided to build several SaaS tools and why we believed that it was the safest way to mitigate the risk.
This article being in contradiction with my previous statement, let me start from the beginning...
Why did we sell a fast-growing SaaS company?
With both lemlist and lempod growing at a 2-digit month-over-month growth rate, sometimes we felt really frustrated!
Not because of the growth rate obviously. 😅

We were not able to do all the things we wanted to do for each project, whether it's on the tech side or business side...
It took us some time to accept the fact that there are only 24 hours per day 😅.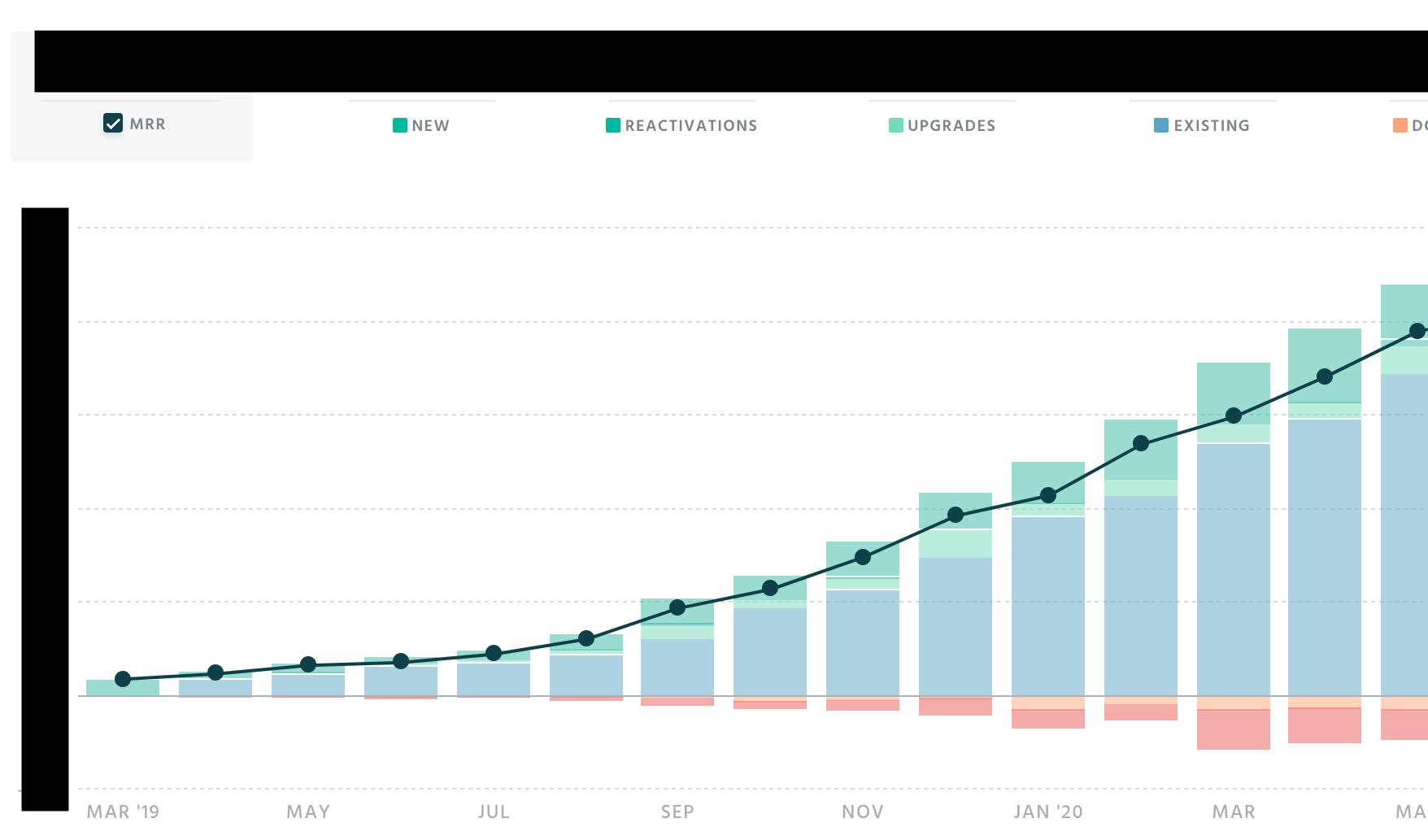 lemlist being our baby 👼, we were amazed that we kept the same 2-digit month-over-month growth after crossing the $1m ARR mark.
At first, we thought that growing at such speed could not last forever. Especially as a fully bootstrapped startup, but it did. 😅
Such a growth rate forces you to make tough decisions. It puts more pressure on both the support and tech team...
On top of that, lempod had the cutest name of all our projects 😍 and it was scaling very quickly as well (see graph above).
But with lemlist momentum being so extraordinary we decided to fully focus on its development and try to maintain the same growth rate, even though that meant selling another fast-growing SaaS. 🚀
Selling your SaaS company while it's growing fast is an important factor in the valuation of your product. But I'll get back to that part later!
You're probably wondering why we didn't hire more people to work on each project and keep them growing, and you'd be right...
It's always important to know the areas where you're good at, but also where you need to get better. As a first-time SaaS founder, I've realized that hiring and scaling a team was definitely a full-time job. Therefore, I needed to become better at it!
Trying to scale 2 teams at the same time was not a route we wanted to take so selling lempod and focusing on scaling the lemlist team seemed like a smarter choice.
I'll write more about it in a future article.
Once we decided to sell lempod, our next objective was to find buyers that were willing to bring more value to the lempod's community than we could. This opens up the following conversation.
How do you find buyers for a SaaS product?
Initially, when I was thinking about a company being acquired, I would always think about how bigger companies would acquire smaller ones because they would have a competitive edge (technology, brand, or market they're addressing).
However, I realized that these "strategic acquisitions" represent only a small percentage of all acquisitions and mergers.
When selling a SaaS business, you have 4 different options:

1- Direct sale: when a buyer (company or private) comes to you (or the other way around) and asks to buy your company

2- Marketplace sale: there are tons of marketplaces where you can list your business

3- Auction sale: you can have a set of buyers willing to make an offer for your company (checkout "Deal or bust" from Nathan Latka)

4- Broker sale: you will go through a third party that will help you find a buyer and that will get incentivized on the sale
Last year, I've been asked to speak at various conferences across Europe (shameless brag 😎). At some point, I ended up meeting Thomas Smale in Slovenia.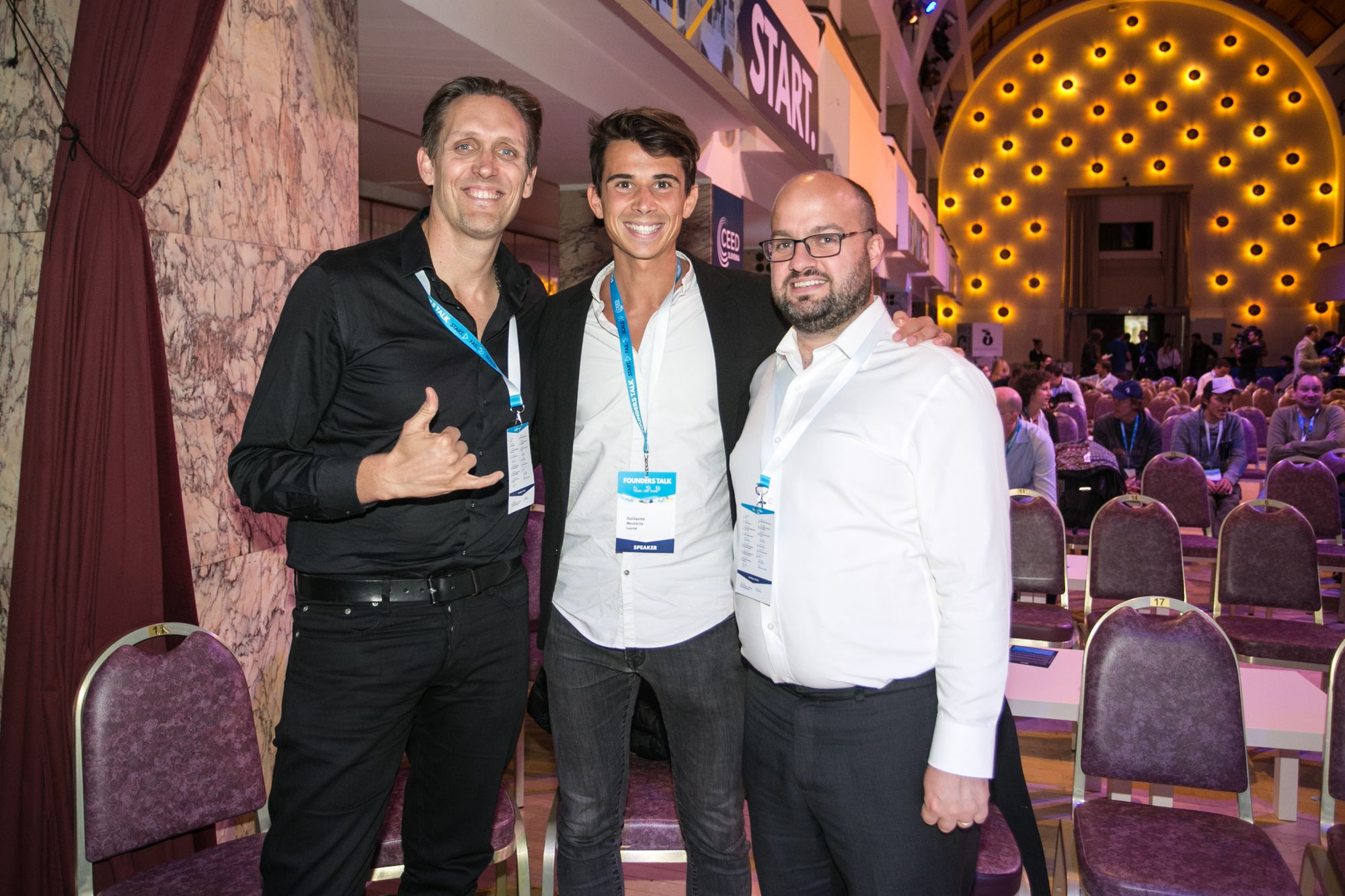 For those of you who don't know Thomas, he's the Founder of FE International, a SaaS M&A advisor.
A SaaS M&A advisor usually has a big network of buyers and his role is to help you find the appropriate buyer for your SaaS.
The advantage of the SaaS M&A advisor is that they will do both the market research and the due diligence so when they introduce your SaaS to some potential buyers, they have a clear valuation on your business.
Their business model is pretty simple, they get a percentage of the total sale.
That percentage can vary based on the person you work with and often changes based on the deal size.
What I like about that business model is that as a business owner, you're not taking any risk upfront. If there's no buyer for your SaaS, you won't have to pay.
There are other types of brokers that are taking an upfront fee and a much lower percentage on the sale, but since I've met Thomas personally and I had a lot of good feedback regarding his company, we decided to start working with him.
How do you know how much is your business worth?
When you talk about SaaS valuation, it's really funny to see what people who never sold or bought a business have in mind.
A couple of months ago, Nathan Latka asked in a group called SaaS growth Hacks, how much a business doing approximately $27k MRR would sell for...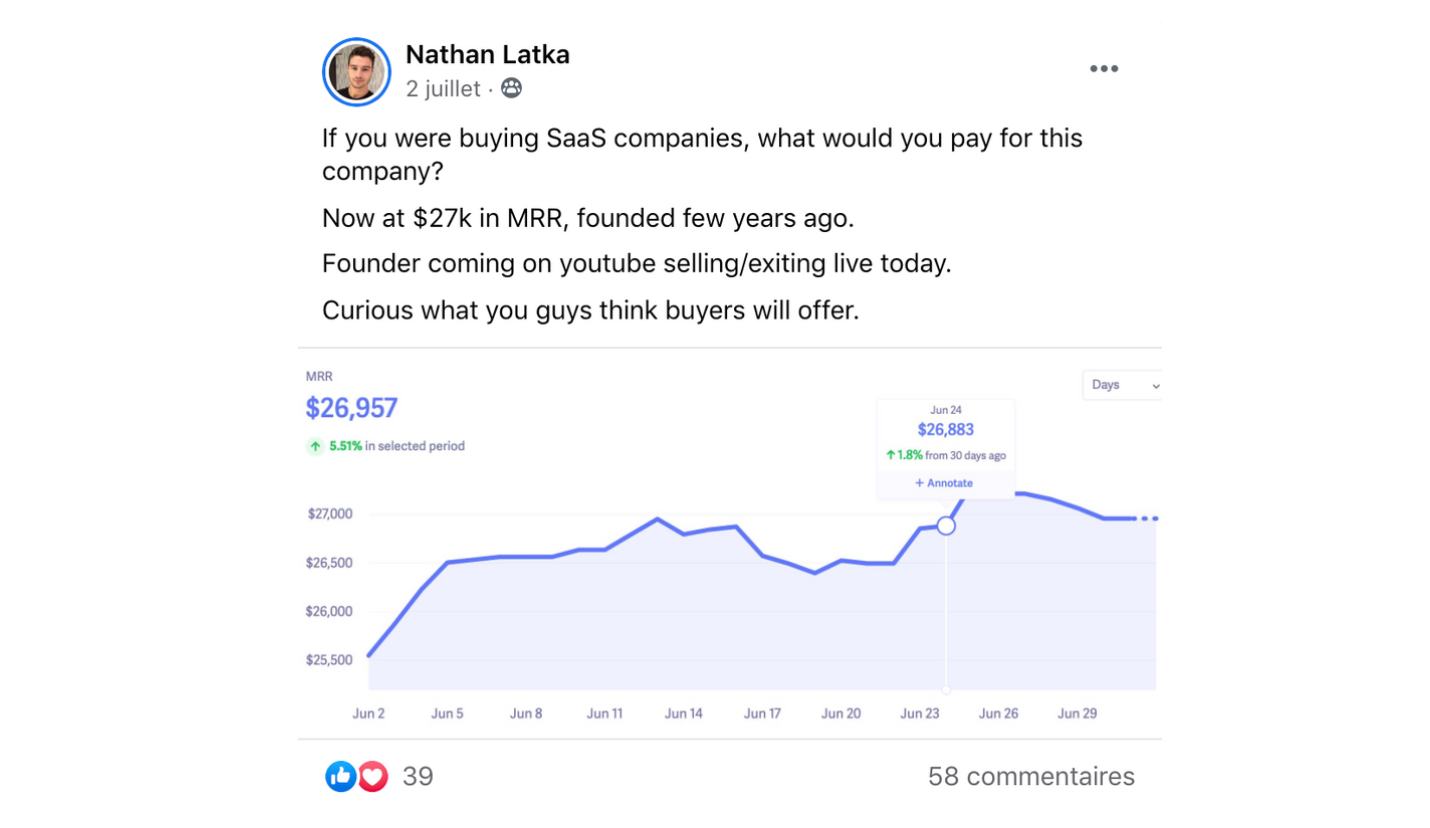 To my surprise, people in the comments were valuing the business between 1.5x ARR up to 10x ARR. (If metrics like MRR, LTV, CAC, Churn, etc... are still too vague for you, you can check this video).
It's fun to see that a lot of people gave valuation without having a clear overview of the business.
When you want to sell a business you will see that the most important parameters are the following:
MRR (Monthly Recurring Revenue)
ARR (Annual Recurring Revenue: calculated using MRR x 12)
LTV (Lifetime value of your customers)
CAC (Customer acquisition cost)
Churn rate (how many customers are canceling their subscription each month)
Growth Rate (how quickly are you growing each month)
Cash burn rate (how much are you spending each month)
Age of the business (When did you launch your business)
Market (How big is the market? How competitive?)
Risk (How likely something that could stop your business to grow and prosper is to happen?)
Technology (what tech stack have you used? Do you have any technological edge?)
Competitive advantage (What makes you unique? Do you have something no one can copy?)
All these parameters will have an impact on your valuation even though we've seen investors or potential buyers valuing businesses based on the multiple of ARR.
For SaaS businesses, it generally makes sense as fixed costs are known to be low. At least for a bootstrapped SaaS that seeks profitability rather than growth at all costs.
Based on different parameters mentioned above, SaaS businesses are usually sold between 2x to 4x the ARR if they are profitable.
Again, this rule of thumb will not include some outliers where for example the competitive advantage or time to market could highly impact the valuation.
The advantage of working with a SaaS M&A advisor is that you will get the most accurate valuation possible.
Indeed, their goal is for your business to be sold at the best price possible (as they're getting a fee on the sale) AND they usually have valuation models that have been built based on all the sales they made in the past.
With lempod, we decided to ask FE to value the business several times before to deciding that we were ready to sell. Indeed, we were just waiting for all our metrics to match the expecting price we wanted. Once that time came, we decided to move on to the next phase. 🚀
And I guess now you're probably wondering 👇
What are the different stages to go through until the sale?
This is where fun begins! 🎉
To complete the sale of your SaaS business, there are approximately 5 different steps.
1st step: Valuing your business
This phase is one of the most demanding for both founders and the broker. Essentially, FE sent us a huge questionnaire for us to detail our business, the market, our competitive advantage VS competitors, potential growth opportunities, etc...
At the same time, we gave them access to both Profitwell and Stripe so they could see in real-time all our metrics (MRR, Growth rate, Churn, LTV, etc...).
I also had a few calls with the FE team to answer a questions regarding the business and the industry.
For about a month they worked on a sales prospectus that they were going to present to their list of buyers.
I was impressed by the level of details they used in that prospectus. Every single detail of the business is outlined clearly and the prospectus was about 30 pages long!
Once we all agreed on what was stated in the prospectus, FE started the next phase!
2nd step: Going LIVE
There are two steps when going live. At first, FE is sharing their prospectus to some of their top buyers so they can have the best deals. Then, they decide to share the prospectus to their entire network.
Unfortunately for us, one week after we went live, global lockdown started 🤦‍♂️
Global lockdown had a clear impact on the number of buyers and investments made worldwide as everyone was expecting a global crash of financial markets.
Having so many companies with their stock valuation going down was a good opportunity for some potential SaaS buyers with cash to spend as buying undervalued stocks is a way to make some quick cash.
Due to the COVID crisis, we had to wait for about 2 months before actually meeting with some actual buyers.
3rd step: Meeting with potential buyers
That's the phase I liked the most. I was able to meet with potential buyers and exchange on different topics regarding lempod's growth and strategy.
lempod had a really fast growth and a very low cost structure. We were not spending any money on customer acquisition due to the virality of the product. This led most buyers to wonder why we wanted to sell.
On our end, our goal was to find a buyer who would be a good fit for the business. We wanted to find an entrepreneur (or team of entrepreneurs) who were willing to invest time and money to keep growing the business.
Because we also consider lempod as our baby, we wanted the buyers to be aligned with the vision as well.
After a week of meeting buyers, we found the right ones and received an offer quickly.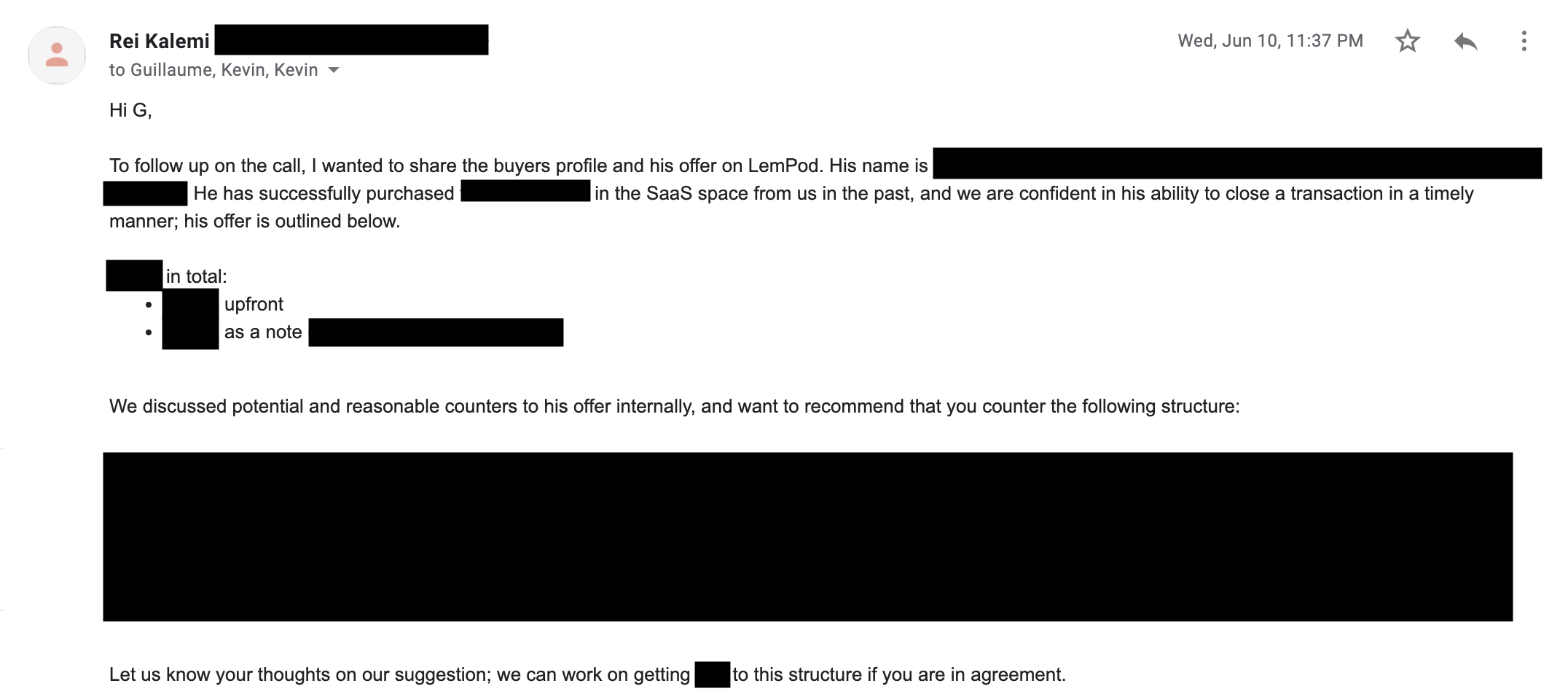 4th step: Closing a deal
I was amazed by how quickly it went and was super excited about it. Before closing the deal, we had to negotiate some details first.
I've mentioned before how a business is valued based on many factors like MRR, Churn, LTV etc... However, what I didn't mention is that the deal structure can vary. Indeed, most people think that when a business is sold, the founders are receiving a lot of cash and that's it.
You have many different ways to structure a deal. Usually, it will be a mix of cash and earn-out. The earn-out is some milestones you'll have to reach to get more cash OR it can also be a percentage of the revenue based on different milestones.
What's nice about the way you structure your "earn-out" is that it allows both parties to mitigate the risk. The bigger the earn out is, the less risk the buyer is taking as it means that the amount of cash upfront is usually smaller.
In the end, it's always a matter of negotiation and understanding what makes sense for both parties.
In our case, we won't be able to disclose the details of the deal we signed, but it is a mix of cash upfront and earn-out.
The reason why we decided to add that earn-out part is because we are convinced that lempod will keep growing (our baby 👼 is transforming into a rocket 🚀) and hence we wanted to benefit from it.
5th step: Due diligence and transition
Once you agreed with the buyers on the deal structure, you will sign a document that is called an LOI (Letter of Intent). This document is non-binding but shows that both parties have agreed to move to the next phase.
During this phase, the team will go through both technical due diligence where they will check the code base and business due diligence. The goal is to check that everything is in order.
For us it was super simple! We had 2 calls, one for the tech part and the other for the business side of things. Each laster for around 2 hours. We went through pretty much everything and have answered all questions. 😊
Once done, you sign the official contract. In our case, this contract is called an APA which stands for Assets Purchase Agreement.
What's nice with it is that you're only selling your assets (code base, website, customer base, etc...) and not the company itself.
This makes the process much smoother as it's a pain for international buyers to acquire the full company abroad. In other words, they are not familiar with the tax system and legislations.
This part is one of the most important and even though FE works for you, I would always recommend you talk with your lawyers about such a contract. After a few backs and forth, we were able to sign the contract within a week.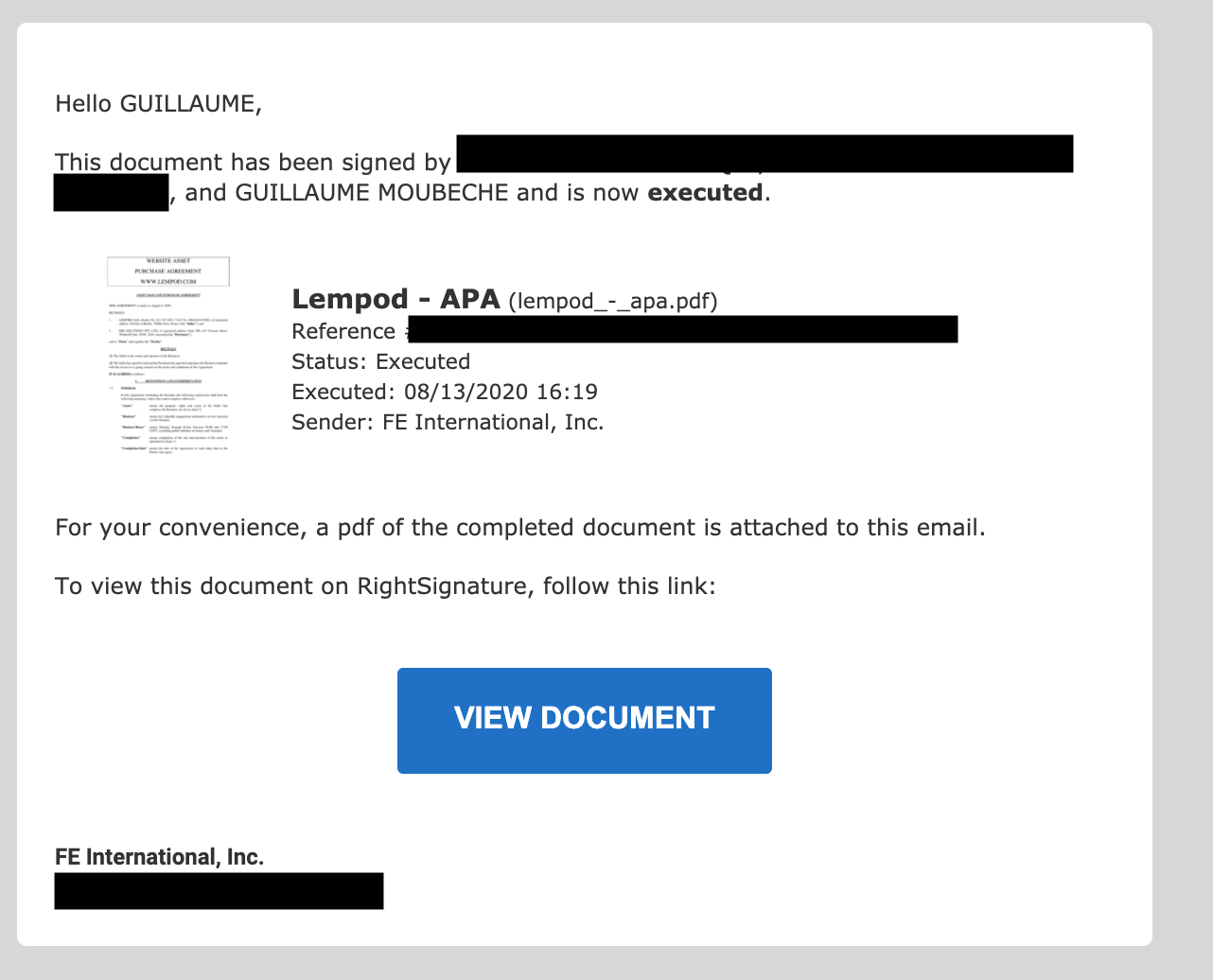 Once signed, you will have to go through an escrow process. The escrow is a third party that will ensure that the transition is done smoothly and that both parties are doing the things they have agreed on.
Essentially, the buyers will wire the money to the escrow so that when all the assets have been delivered to the buyers, the escrow will wire us the money.
We had planned the delivery of all assets (code base, domain transfer, Stripe account, tools used, etc...) to be completed within 5 days. In reality, it took 10.
Transferring the servers and the Stripe account including all customers was not something as easy and it requires quite some time from the dev team. 😅
It can take a bit more time due to the technical aspect of it. We didn't want to impact too many users during the server migration so my 2 technical co-founders had to handle this during the weekend.
This phase was pretty smooth and while transferring all the assets, we also did some training to share all our growth secrets. 🙊
Ilya and Daria spent quite a lot of time explaining our daily processes when it comes to lempod's growth and gave access to our entire growth workspace on Notion to the new team so they can re-use the same approaches that were giving the best ROI. 🚀
They both managed and worked hard on lempod's growth for about a year before joining lemlist. 🚀
Once done, we finally received the money from the Escrow leading to a huge champaign shower in Paris (just kidding 😅).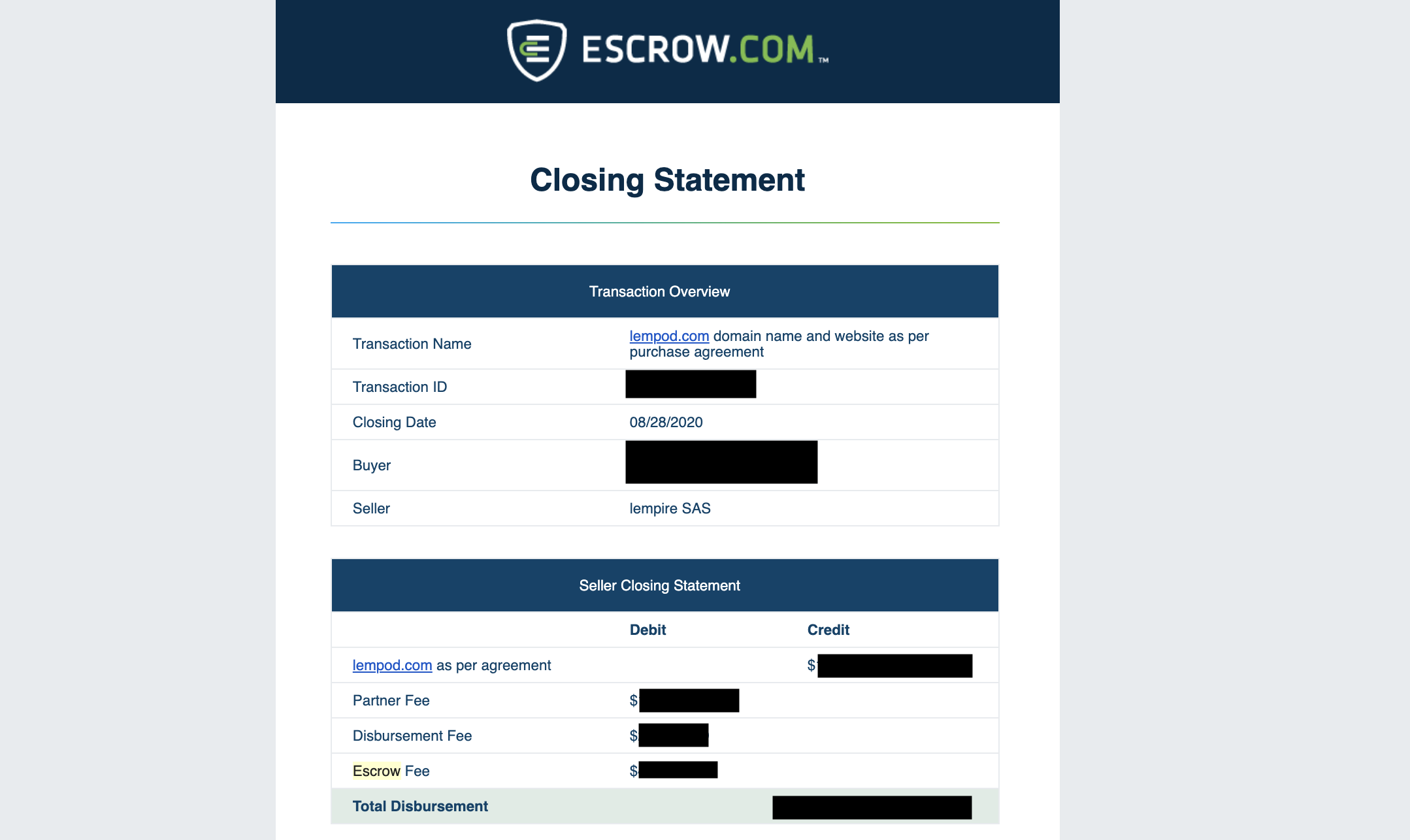 The whole process took 6 months and it was a really fun experience with tons of lessons along the way.
Being able to work closely with the new team that will handle lempod's growth allowed us to confirm that they were highly motivated to bring tons of value to the lempod's community and help its users get even more successful. 😍
What's next for lempire?
The lempire journey is continuing with our lemlist team growing to 19 people this September. 🚀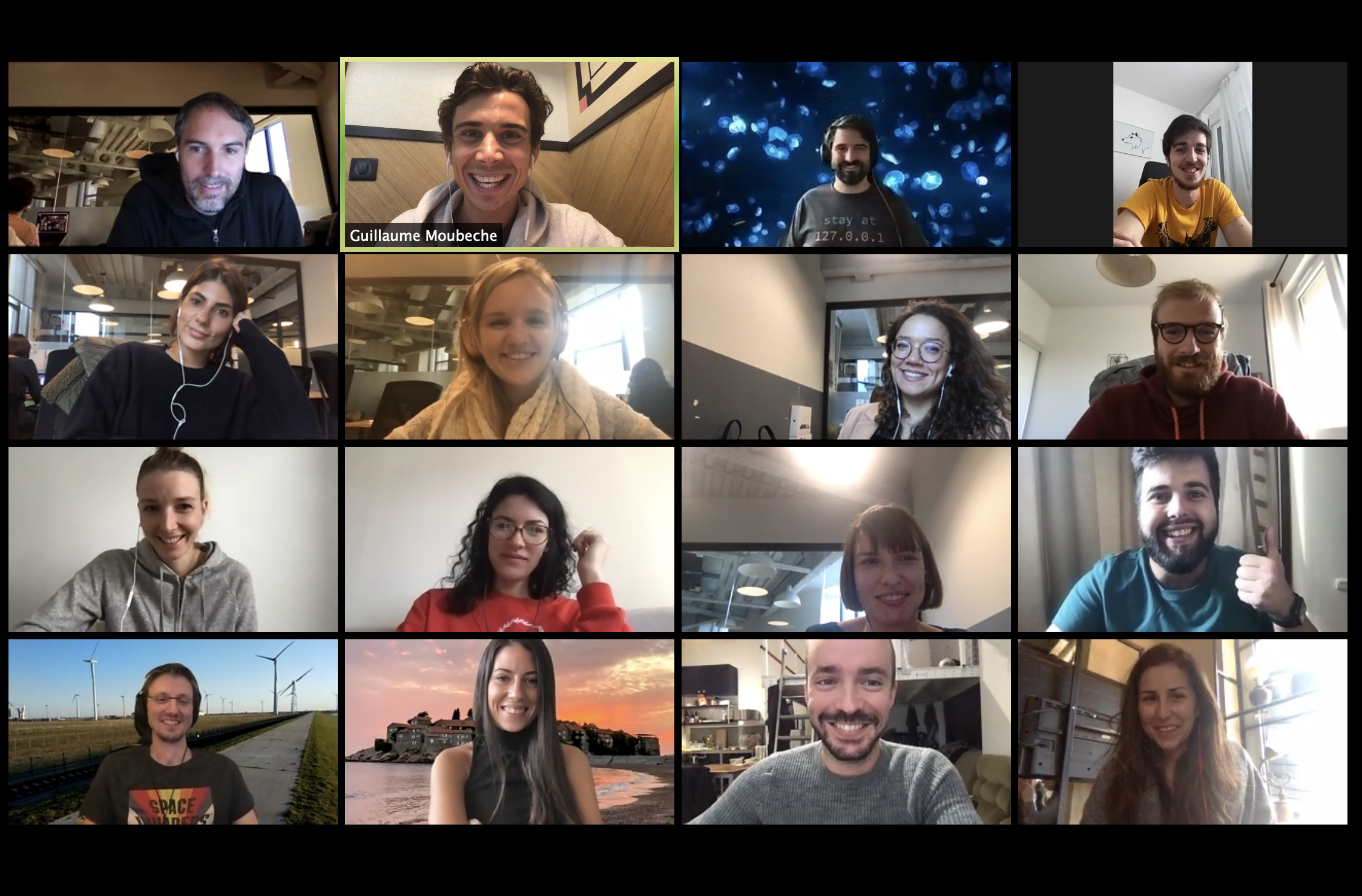 Exiting our first SaaS project was a great way to re-focus 100% on lemlist for the months to come and push to keep that 2-digit month-over-month growth rate.
Besides that, we also want to find the best talent to join us on this amazing journey. 😍
If you found this article useful, please share it. 🙏❤️
And if you know talented developers, marketers, or sales rep, please let them know that WE ARE HIRING. 🚀 🍾
Love you all ❤️
G.
P.S: I wanted to add a special mention to thank both Ilya and Daria who worked for a year to skyrocket lempod's growth and whose without the hard work and dedication, all this journey and exit would not have been possible ❤️